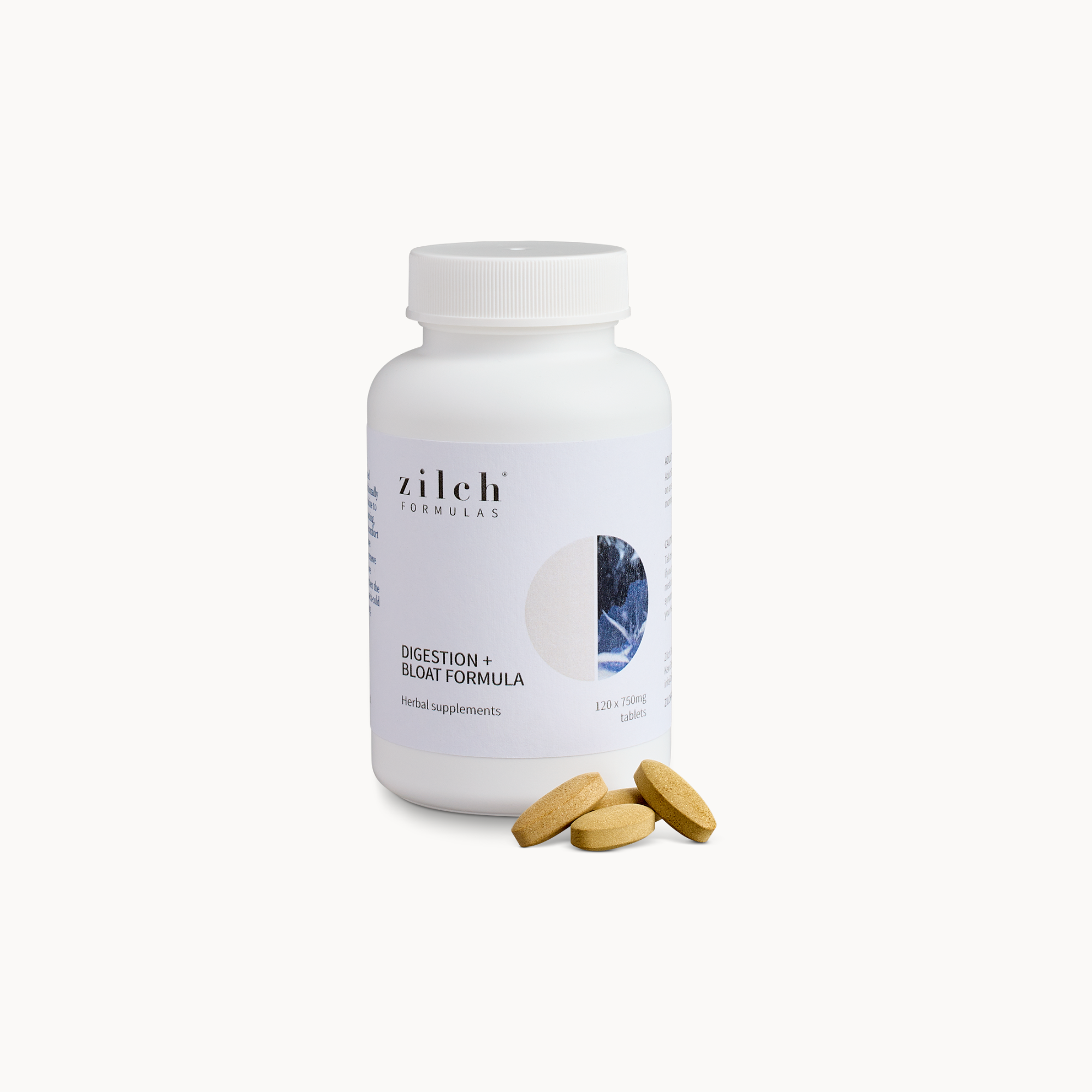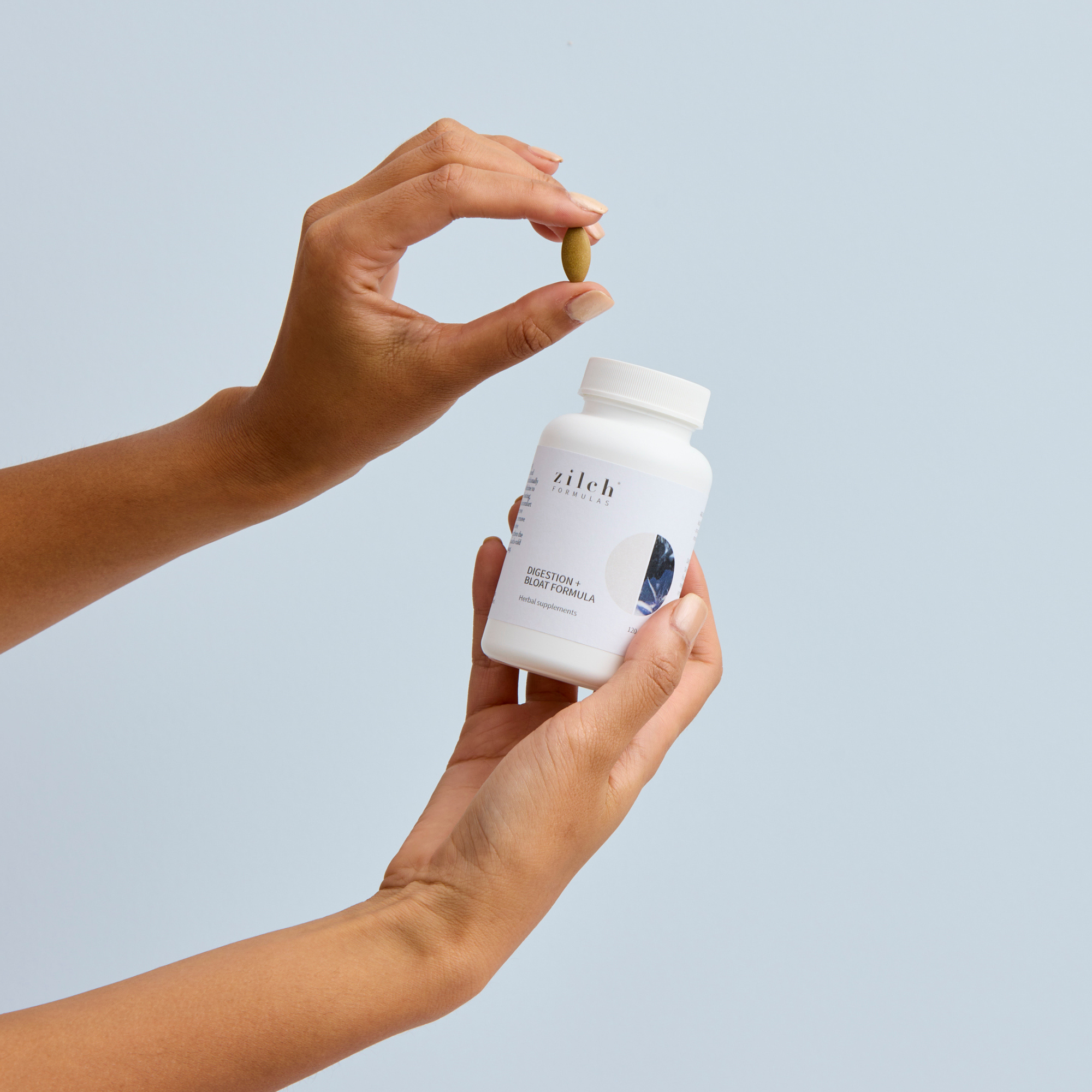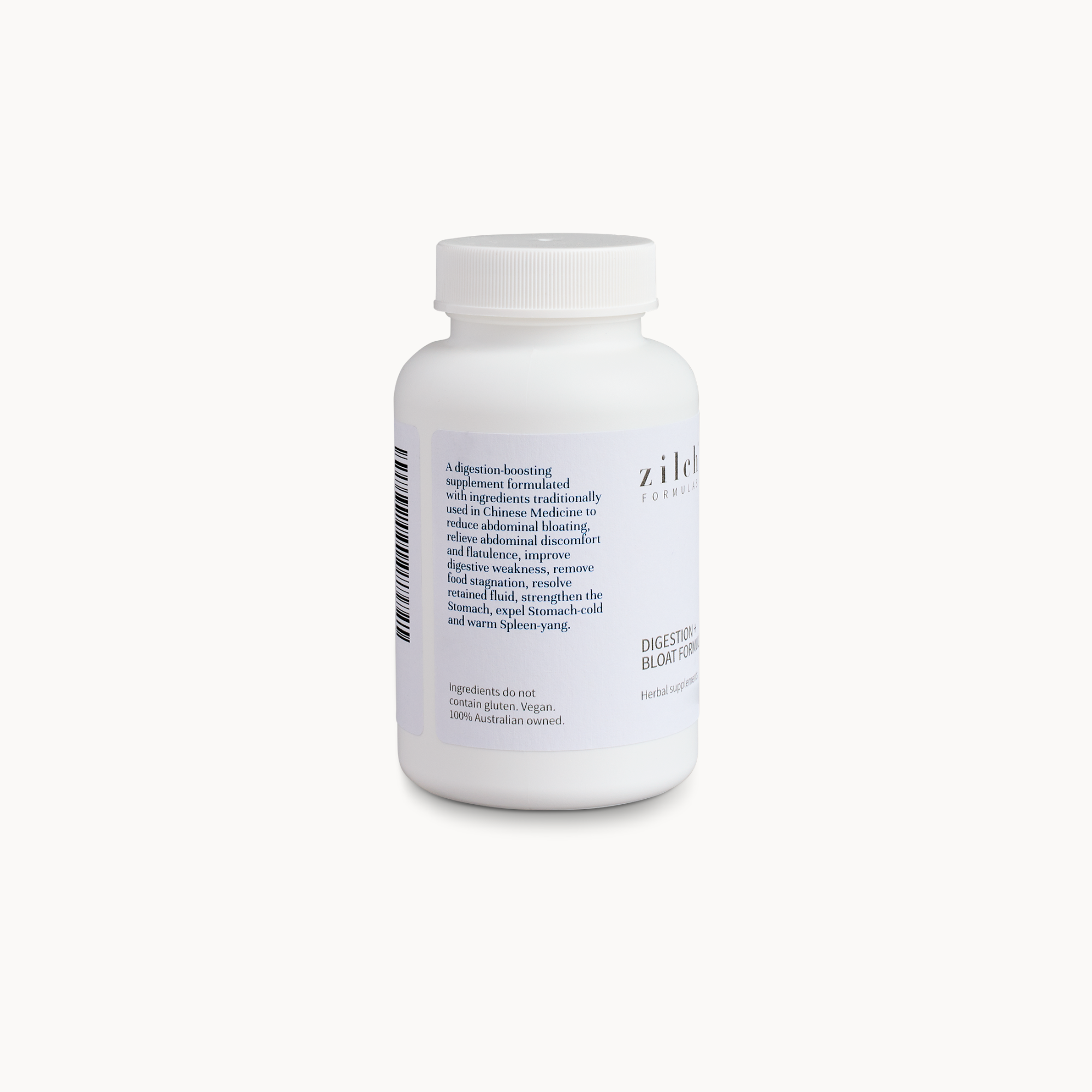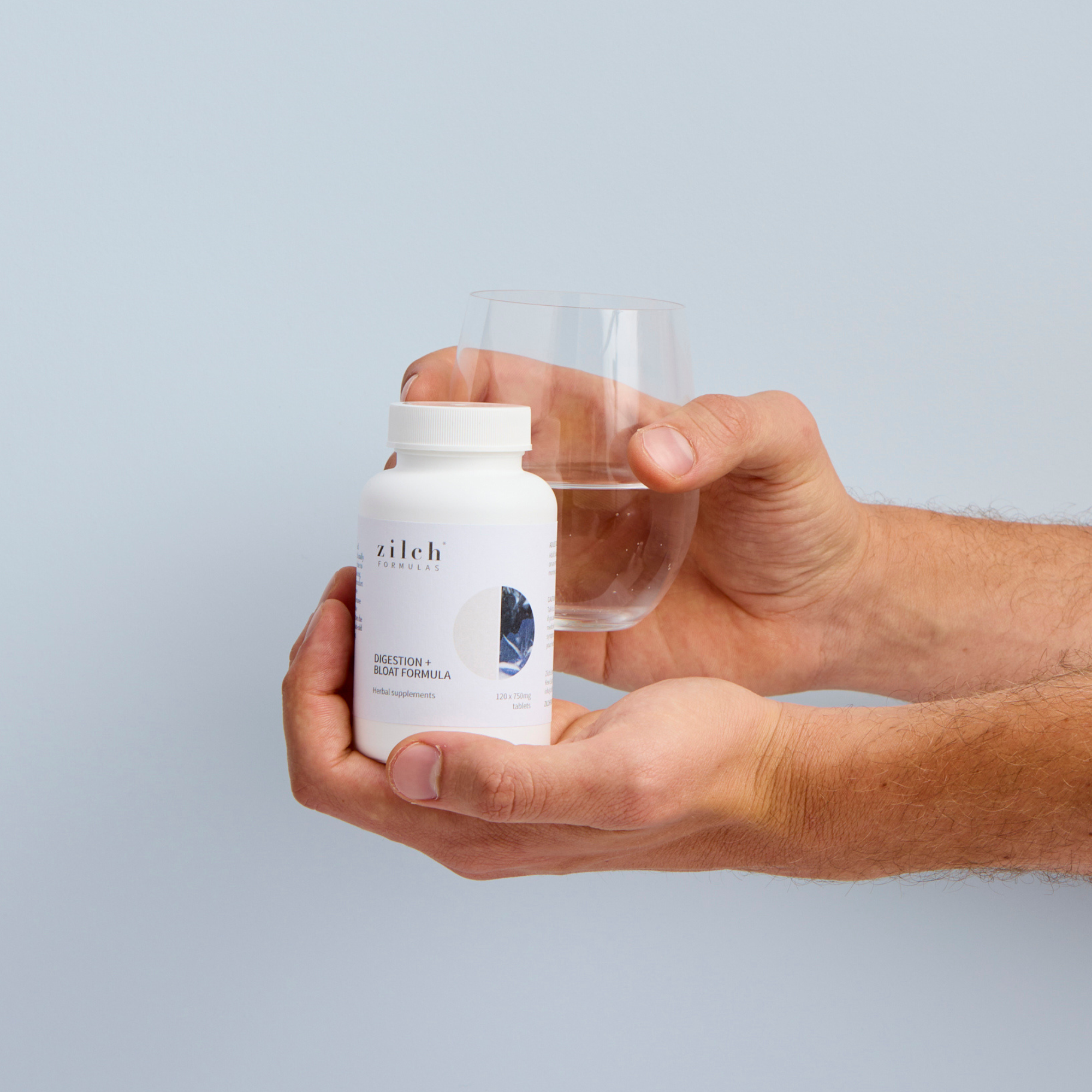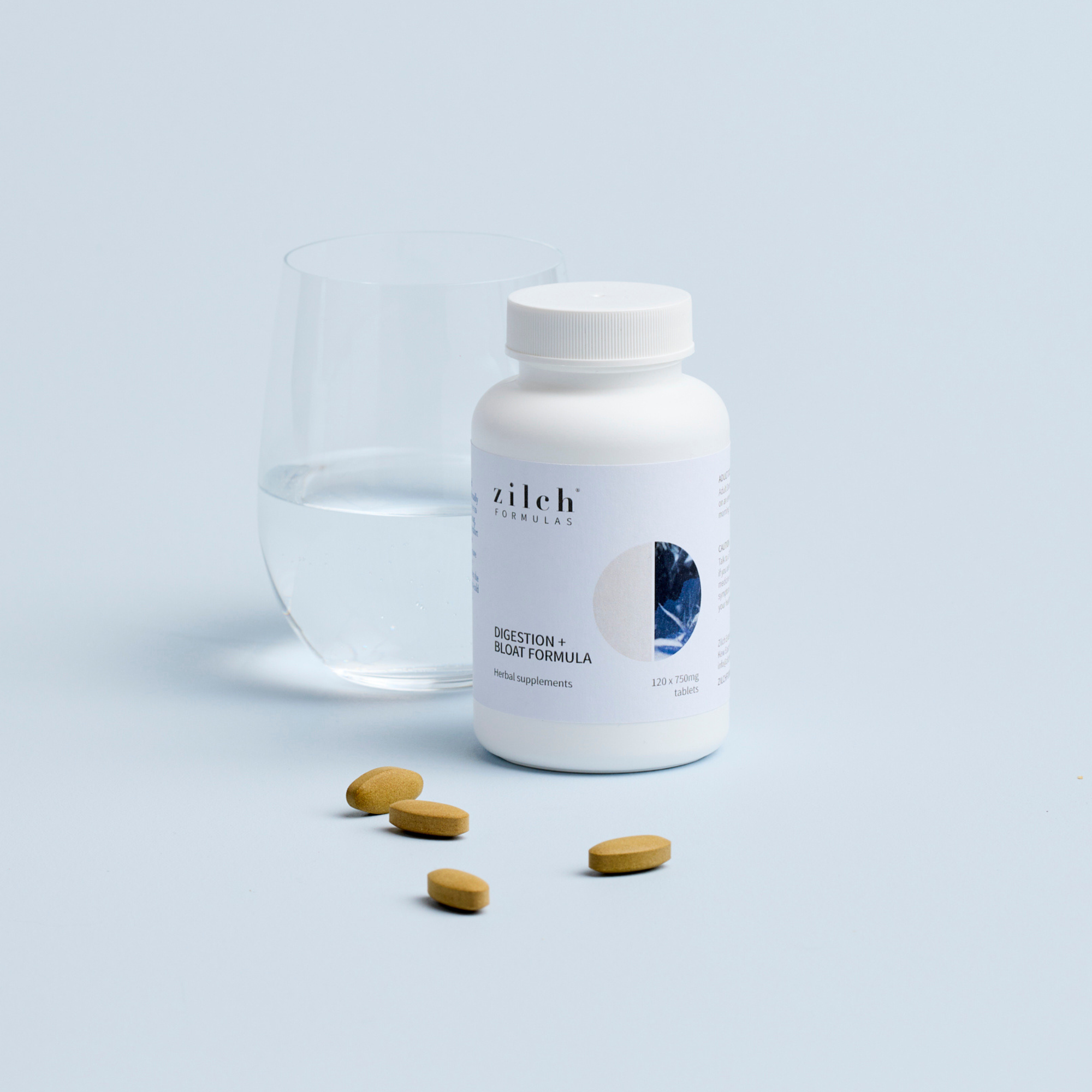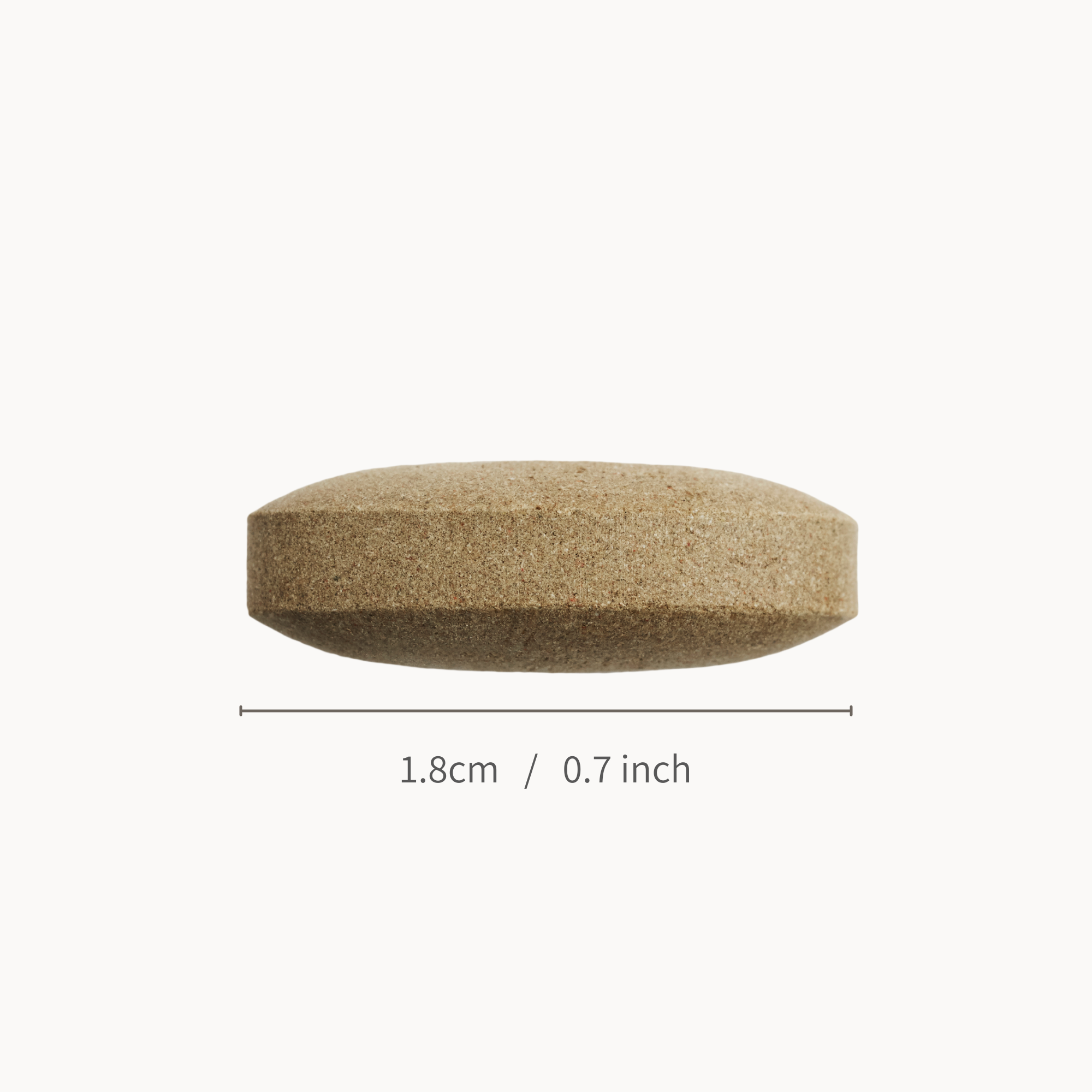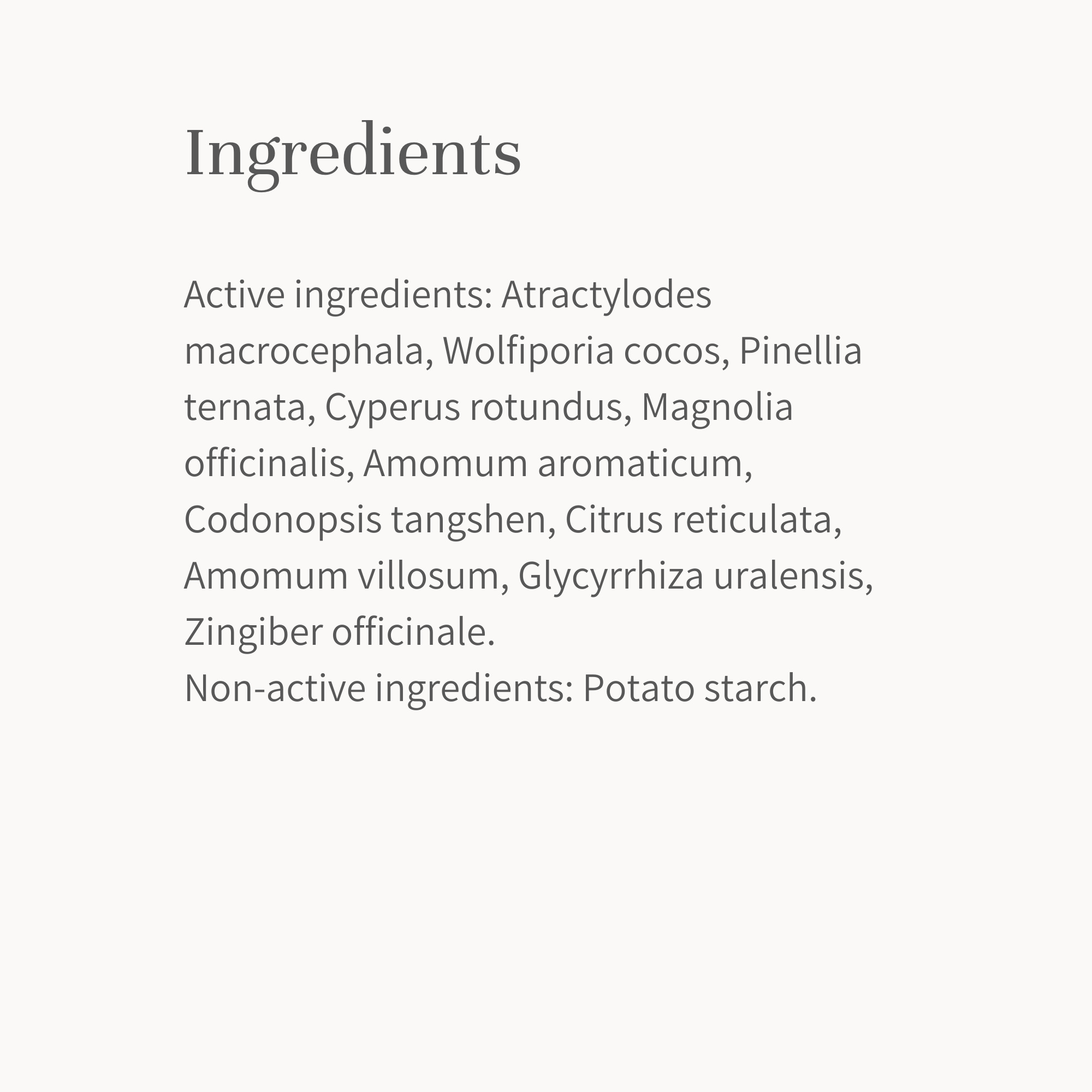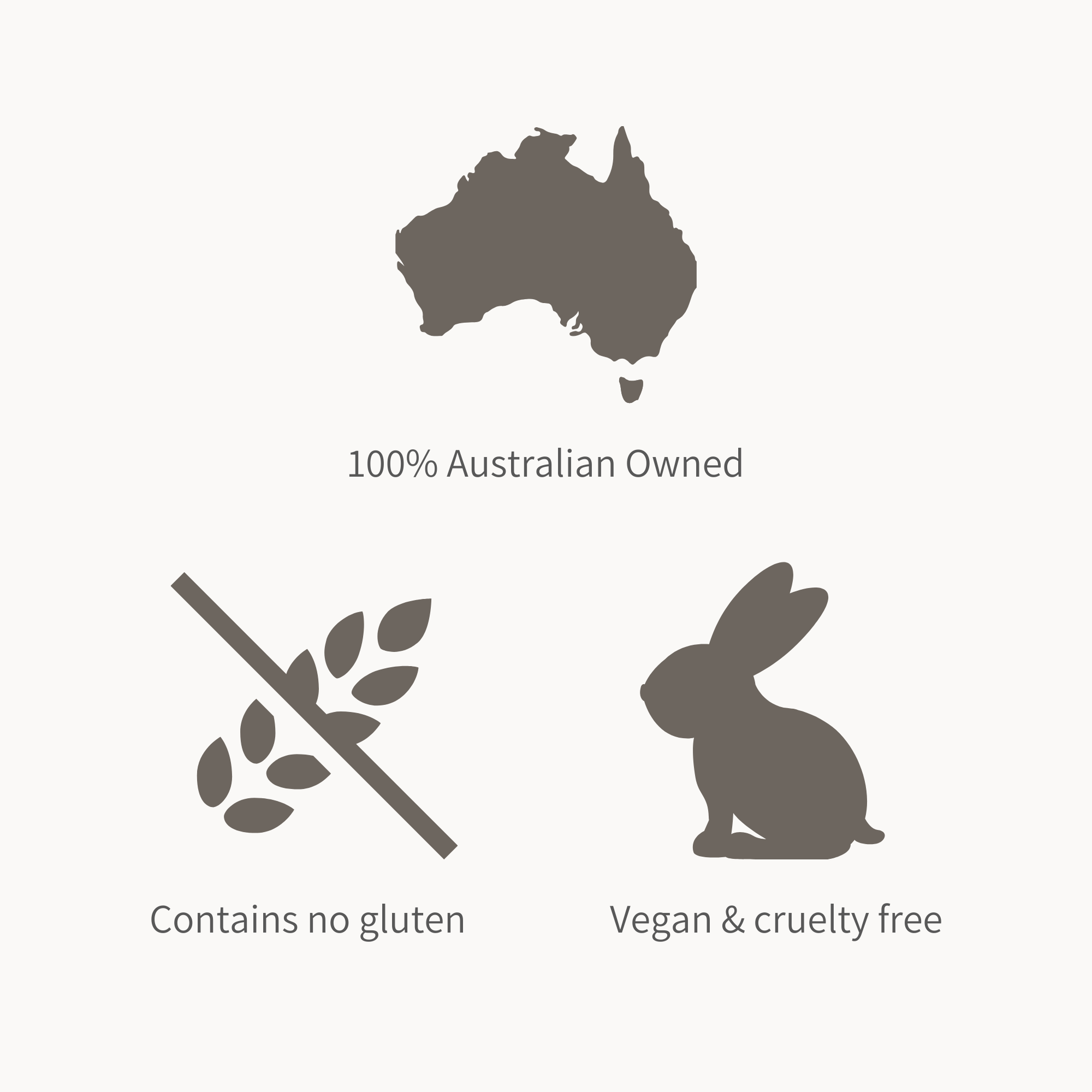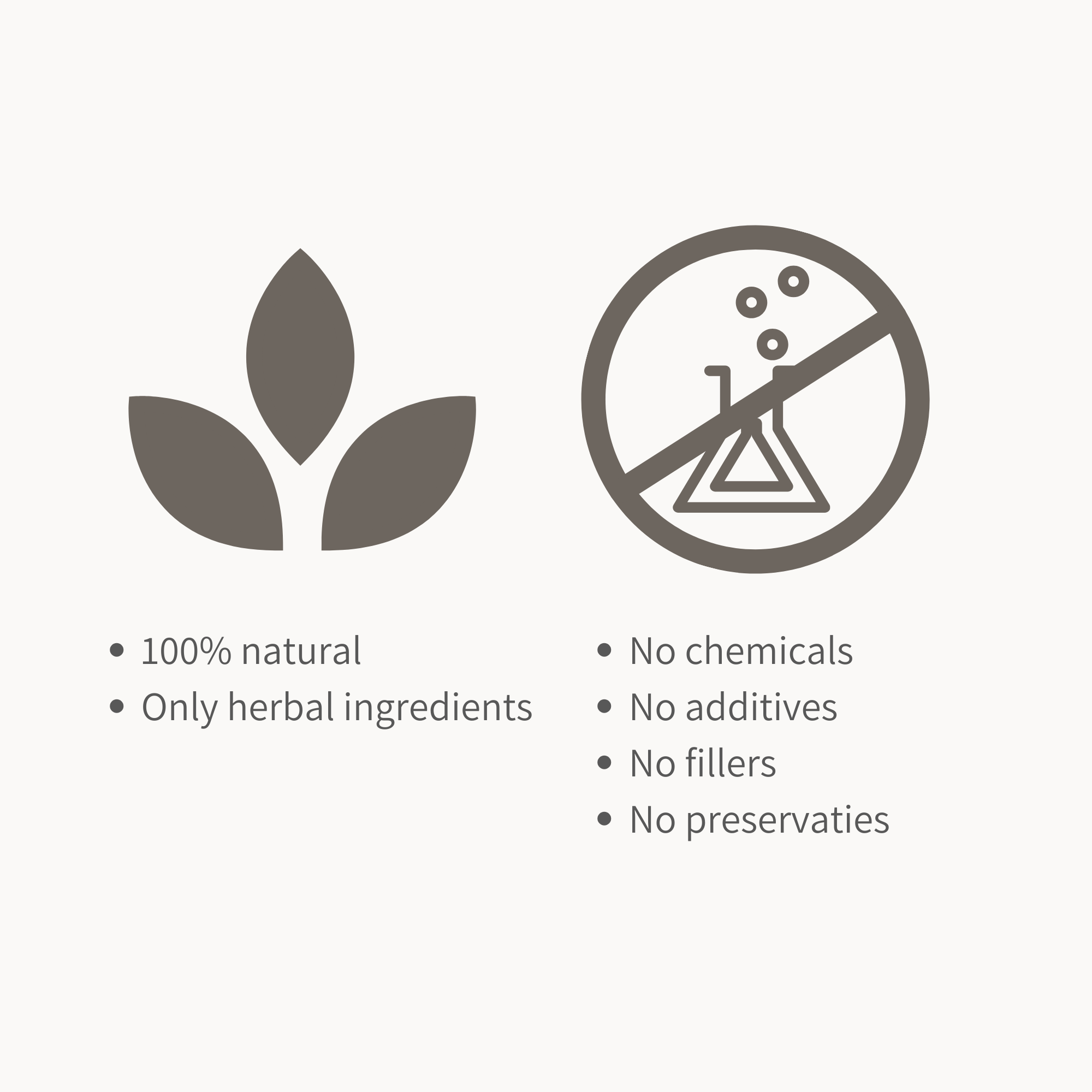 "ONE WEEK ON THESE AND I ALREADY FEEL LESS BLOATED & GASSY!"
Zilch Digestion + Bloat Formula
Sale price

$71.00 USD
Regular price
(/)
*** U.S Shipping. All U.S orders will be temporarily dispatched from the Melbourne warehouse until further notice.
---
Zilch Digestion + Bloat Formula –a good gut feeling.
One bottle contains 120 x 750mg tablets (30 day dose).

Zilch Digestion + Bloat Formula is a 100% natural, digestive tonic packed with Chinese Herbal Medicine ingredients that support and improve digestion, resolve bloating and relieve digestive discomfort.
• All natural – 100% Chinese herbal medicine active ingredients
• No harsh chemicals, drugs or preservatives
• Ingredients do not contain gluten.
• Vegan and cruelty free.
• 100% Australian owned.
MAY ASSIST WITH

Digestion + Bloat Formula may assist in:

relieving abdominal bloating and distention
reducing digestive pain and discomfort
supporting digestion and improving digestive weakness
relieving food stagnation
reducing flatulence
dissipating retained fluid/water

You may benefit if you have symptoms and signs such as:

bloating
abdominal distention and discomfort
feeling of fullness with or without food
loose stools
irregular bowels movements
excess flatulence
excess fluid retention a.k.a water weight
general feeling sluggish and foggy.

INDICATIONS:
Traditionally used in Chinese medicine to:
clear/expel/dissipate stomach-coldness, clear/dry/drain/eliminate/resolve dampness, dissipate retained-fluid/water, tonify/nourish/strengthen/replenish Qi, move/activate/dissipate stagnant qi, tonify/nourish/strengthen/replenish spleen-qi, promote digestion and remove food stagnation, warm and nourish spleen, warm and nourish/strengthen stomach, tonify/nourish/strengthen/replenish spleen-yang, helpsenhance/promote general health and wellbeing, decrease/reduce/relieve flatulence/carminative, maintain/support healthy digestion, maintain/support digestive system health, decrease/reduce/relieve abdominal bloating/distention, help reduce occurrence of abdominal bloating, decrease/reduce/relieve abdominal feeling of fullness, decrease/reduce/relieve abdominal pain/discomfort, relieve digestive discomfort, digestive tonic/Improve digestive weakness

INGREDIENTS

Zilch Formulas' Digestion + Bloat Formula is made up of 11 herbal ingredients, and potato starch as a binder. No added preservatives, chemicals, fillers or nasties.

Active ingredients: Atractylodes macrocephala, Wolfiporia cocos, Pinellia ternata, Cyperus rotundus, Magnolia officinalis, Amomum aromaticum, Codonopsis tangshen, Citrus reticulata, Amomum villosum, Glycyrrhiza uralensis, Zingiber officinale. Non-active ingredients: Potato starch.
CAUTION

If symptoms persist, talk to your health professional. Talk to a TCM practitioner/health professional if you are unsure if this medicine is right for you.

ALWAYS READ THE LABEL AND FOLLOW THE DIRECTIONS FOR USE.

Medical disclaimer: All content and information on this website is general in nature and does not intend to constitute medical diagnosis, medical treatment and medical advice. Our product(s) is not an individualised product (it is not a product that is tailored specifically to you) and all information provided is not a substitute for medical advice and is for general in nature.Please consult your medical practitioner or doctor if you have any queries before taking this product, continuing this product or if you have any questions about medical conditions.We cannot give any specific or personalised advice. For advice specific to you (eg: ingredients and allergies, current symptoms and medical conditions), please consult your healthcare professional.No content about this product is designed to be misleading.Reactions/allergies to any ingredient(s) in our product(s) is possible, as is reactions/allergies to any ingredient in any goods. Individuals are advised to seek medical advice from your healthcare practitioner or doctor if there are any concerns before starting our product(s).
DOSAGE

Take 4 tablets on an empty stomach in the morning. Maximum recommended dosage: 6 tablets once a day.

For ages 14 and up. Please check with your health professional if under 14 years.

Store below 30°C / 86F.
SHIPPING

Fast shipping: We dispatch all orders same or next day.


Australian Shipping: We use Australia Post for domestic orders within Australia. Orders are dispatched from our Melbourne warehouse.
US Shipping: All orders are dispatched from California. No extra duties are collected.
International shipping (non-AU and US): We use Australia Post International. Orders are dispatched from our Melbourne warehouse. Delivery times vary region to region. Upon your purchase being shipped, you will receive tracking details via email.  

We do not collect, and are not responsible for any duties or customs for international purchases. Please check the rules in your countries regarding imports; you will be responsible to pay this in your country if extra charges do apply. 

Our full shipping policy is here. Please read before purchasing.
WHEN WILL I SEE RESULTS?

Q: WHEN WILL I SEE RESULTS?
A: Zilch Digestion + Bloat Formula is designed to work quickly. Most users report reduced bloating and gas, improved stool consistency and an improvement in overall discomfort within the week of starting.

Q: CAN I TAKE IT WITH OTHER SUPPLEMENTS?
A: There are no known interactions with other supplements. Although there are not often interactions with natural supplements and other vitamins and minerals, if you are taking other supplements and are unsure, we always advise to please seek information from your healthcare professional for personalised advice before adding new supplements to your daily regime.
IS DIGESTION + BLOAT FOR ME?

Q: IS DIGESTION + BLOAT FORMULA FOR ME?
A: You may find Zilch Digestion + Bloat Formula useful if you often complain of abdominal bloating distention and discomfort, feeling a sense of fullness with or without food, loose stools, irregular bowels movements, flatulence, excess fluid retention aka water weight of if you generally feel of sluggish and foggy.

Q: IS IT SUITABLE IF I AM CONSTIPATED?
A: Zilch Digestion + Bloat Formula is NOT a laxative. It works on boosting the digestive energy to maintain and support a healthy digestion which can result in healthy bowel habits.

Q: CAN I TAKE ZILCH DIGESTION + BLOAT FORMULA DURING PREGNANCY?
A: There are no known contraindications with Zilch Digestion + Bloat Formula during pregnancy. If you're unsure, please consult your health professional for personalised advice.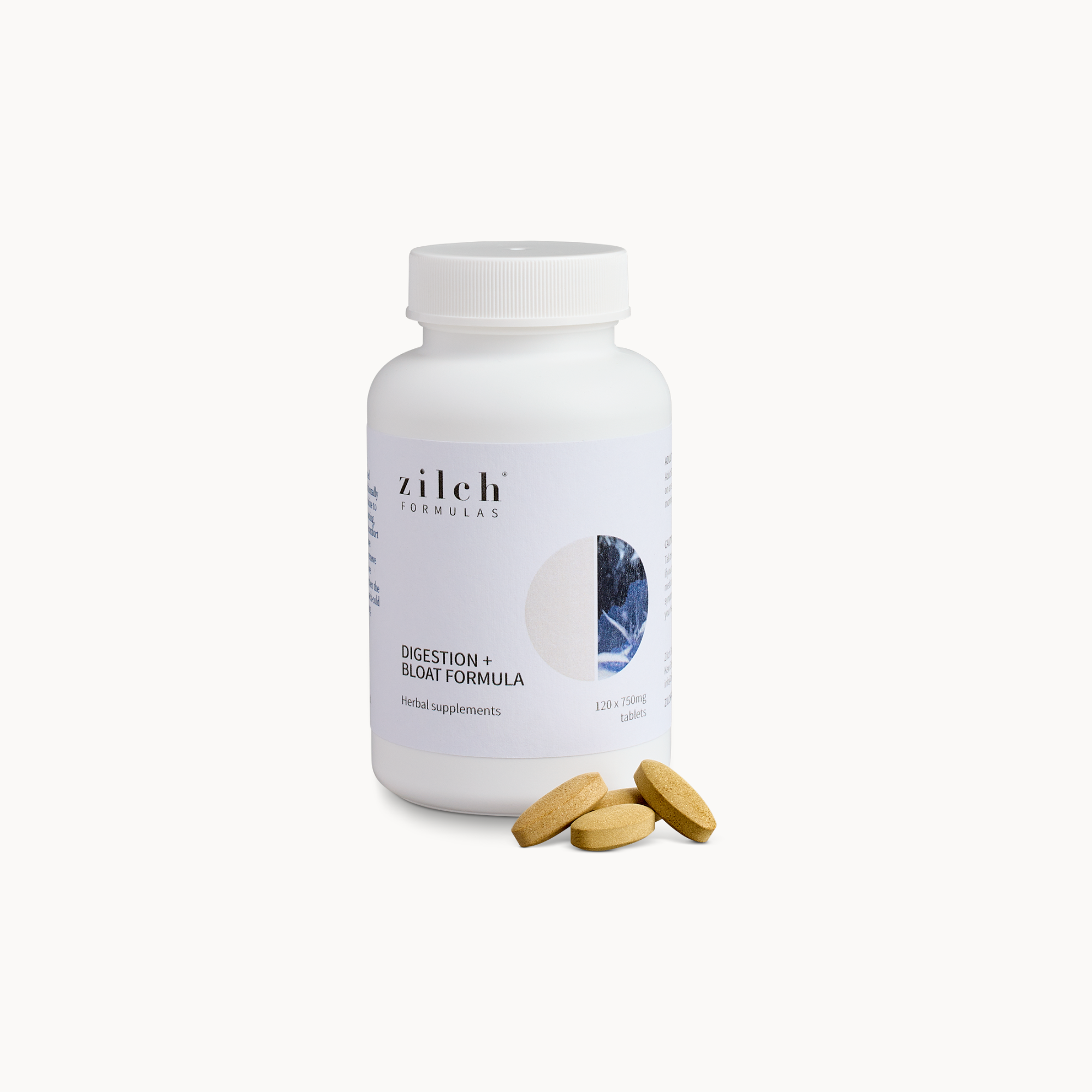 Zilch Digestion + Bloat Formula
Sale price

$71.00 USD
Regular price
Choose options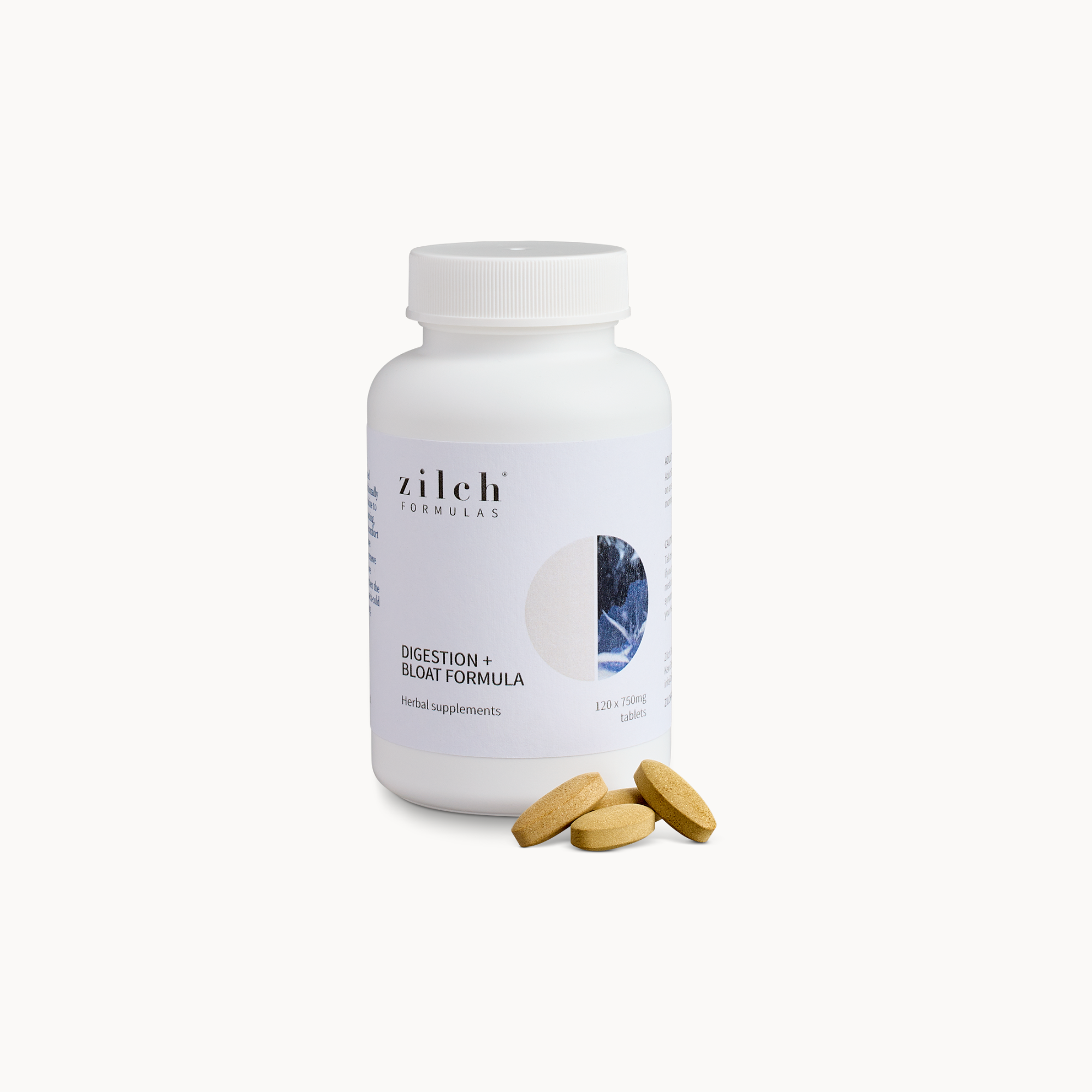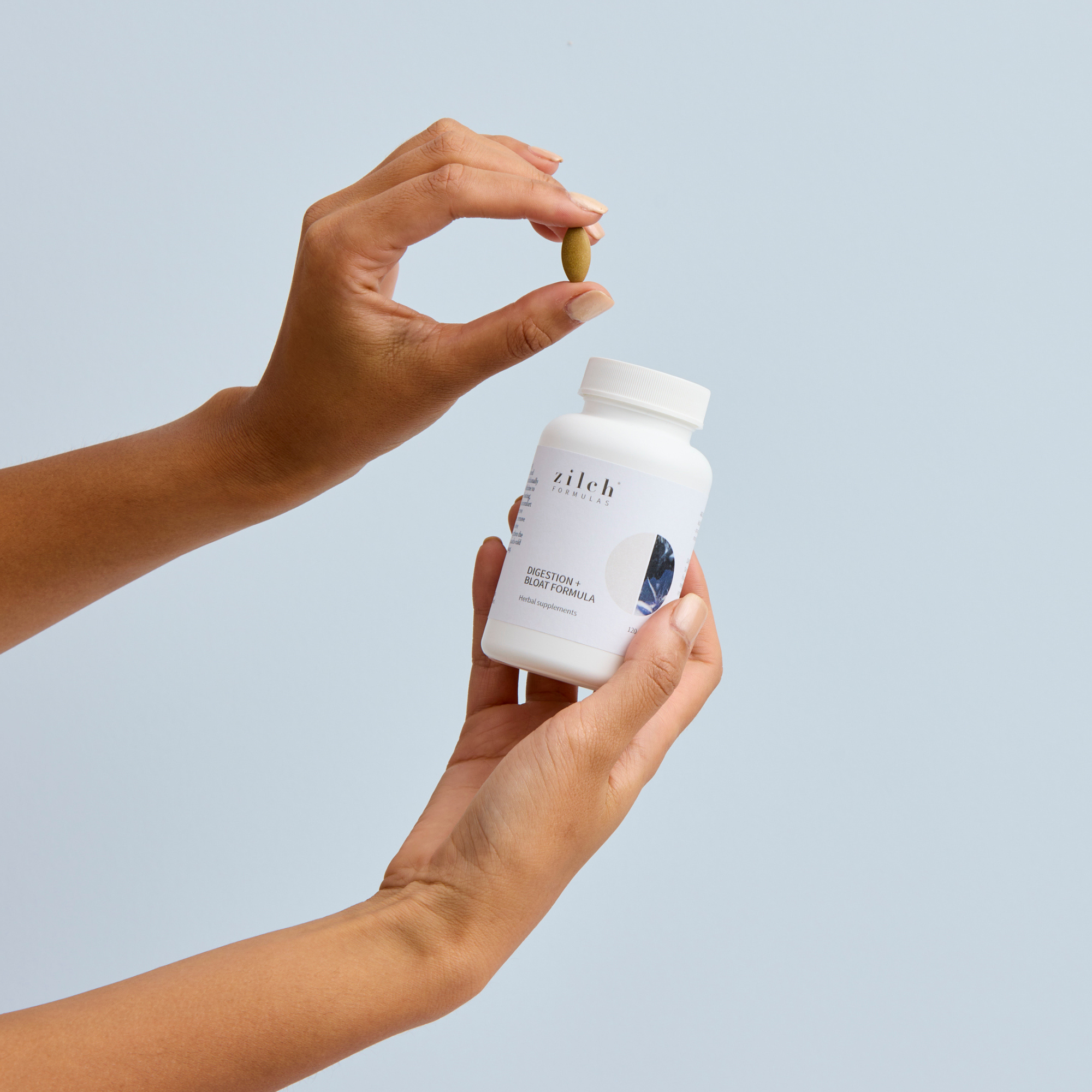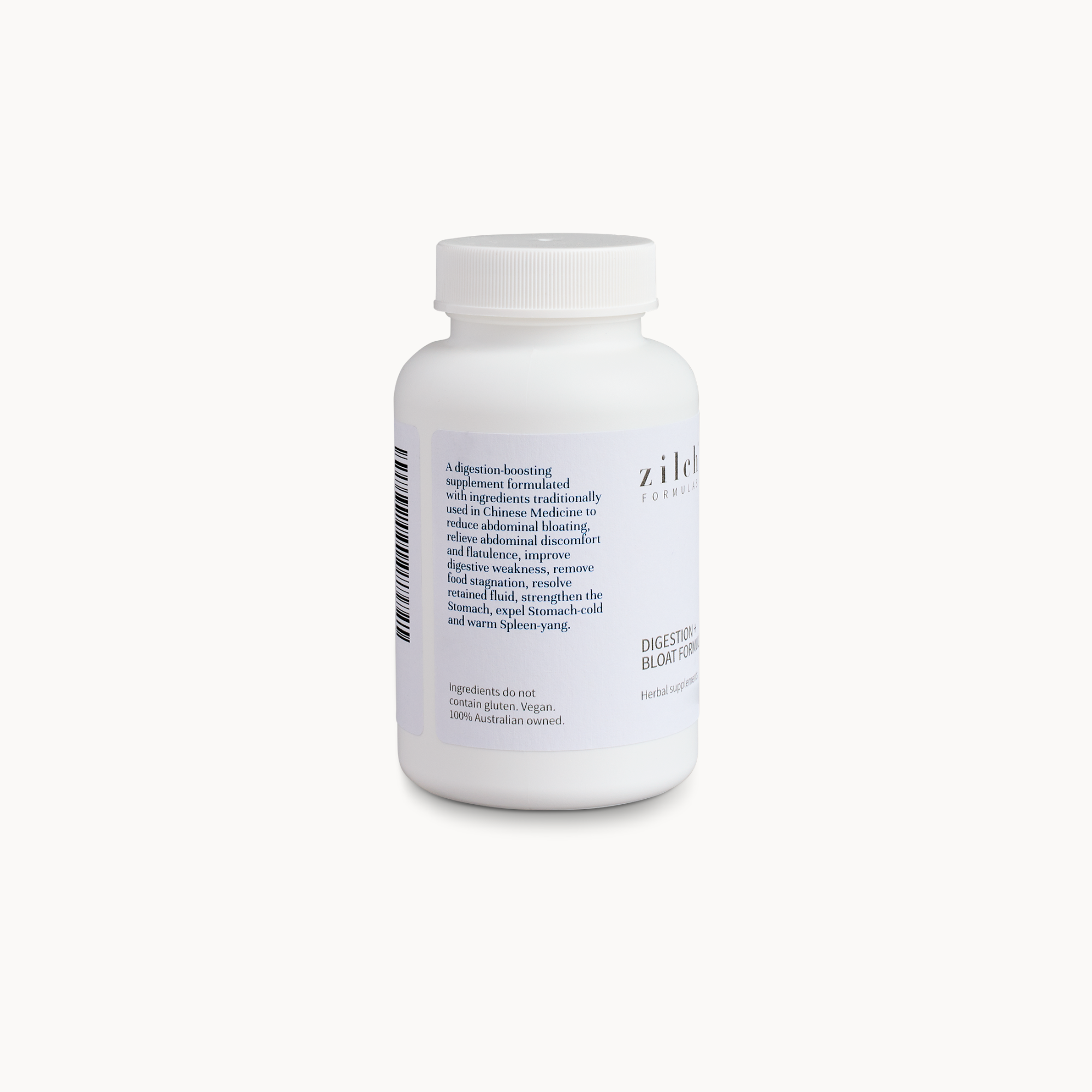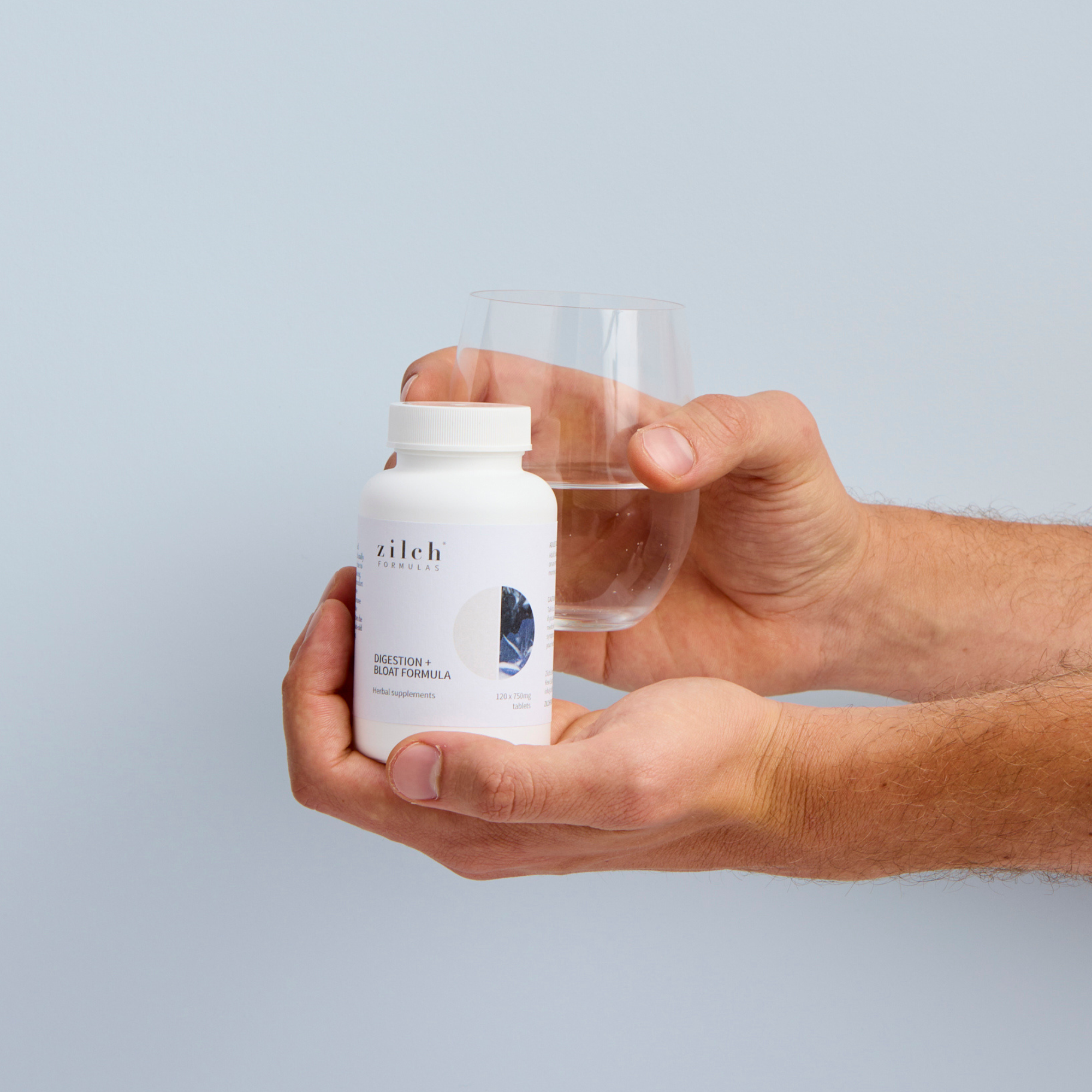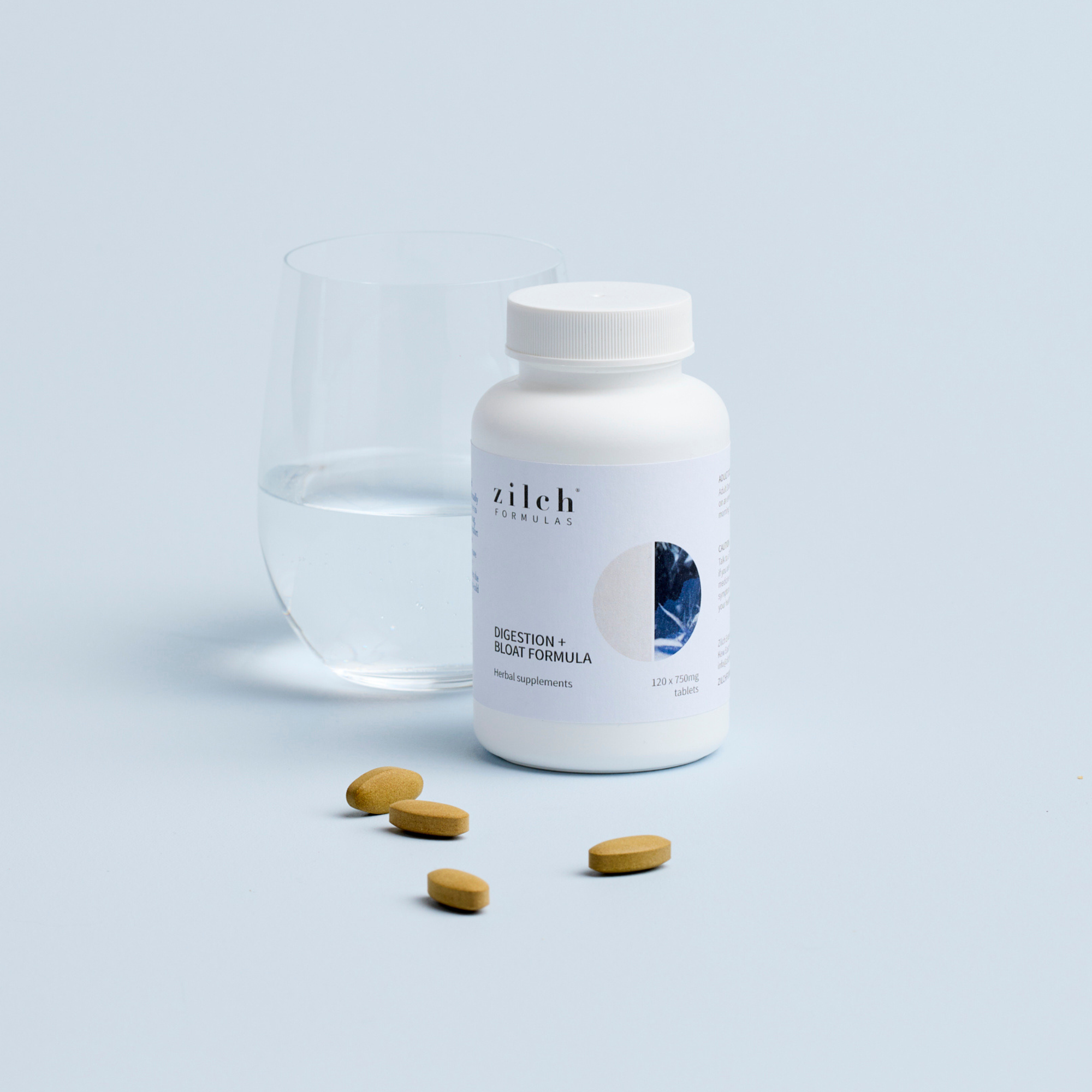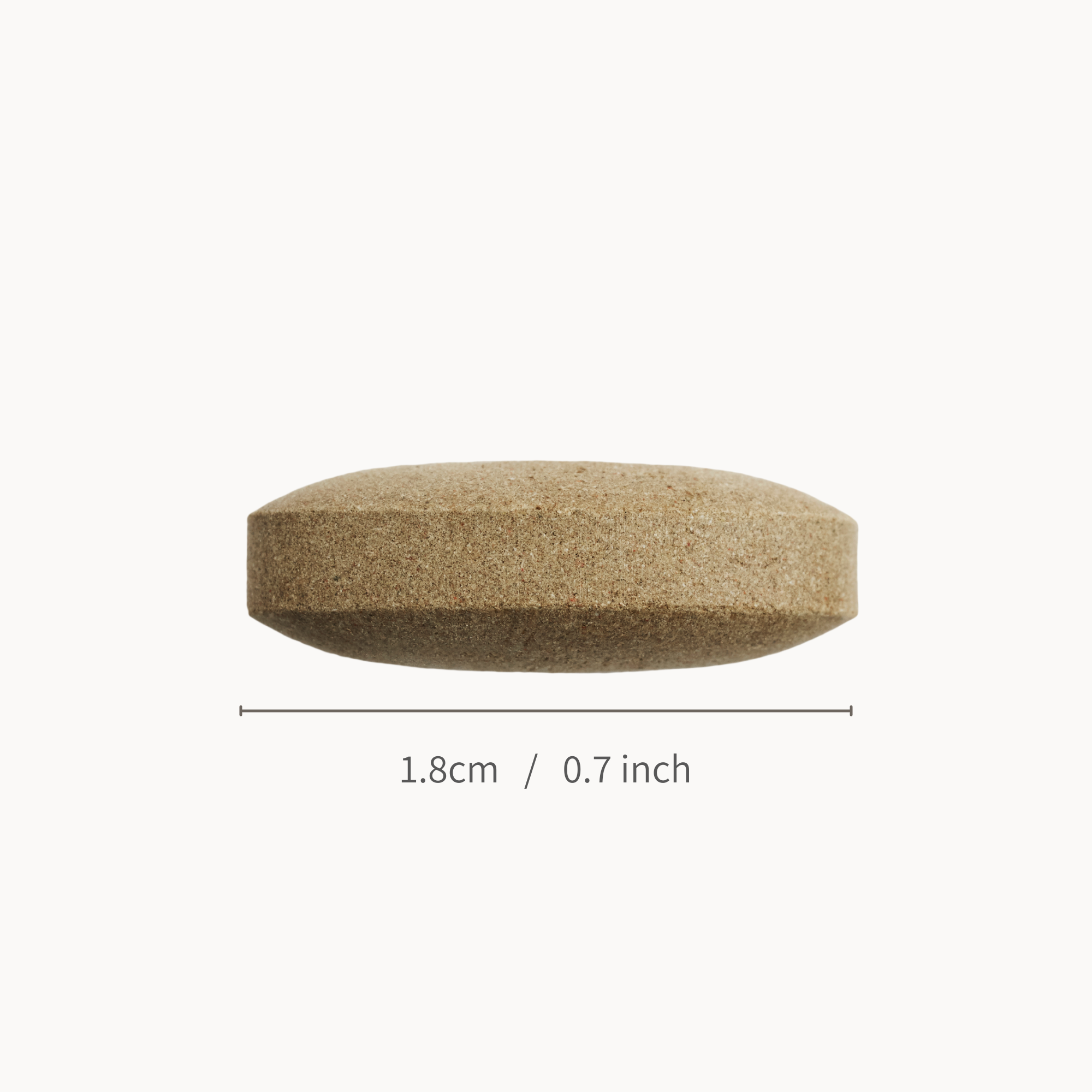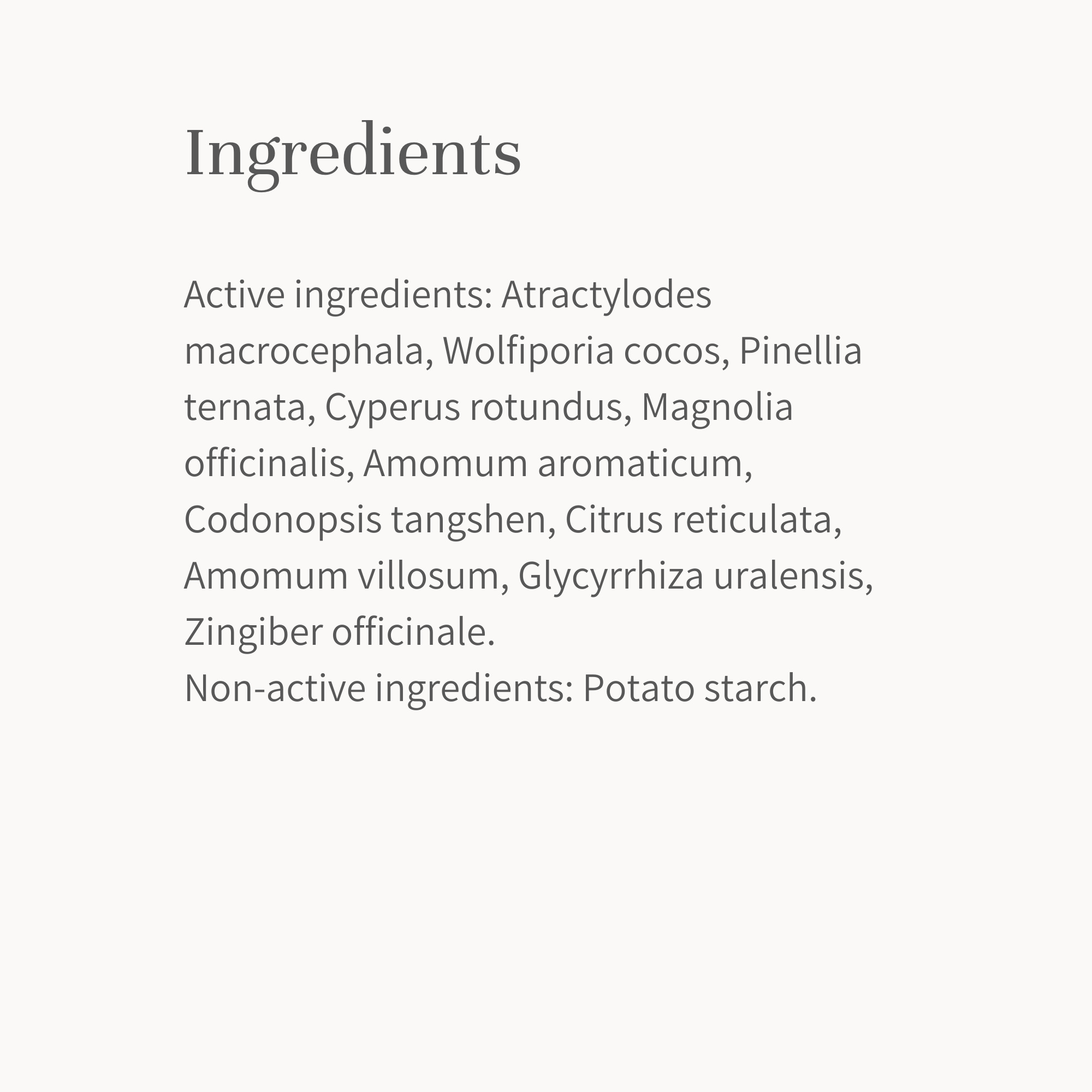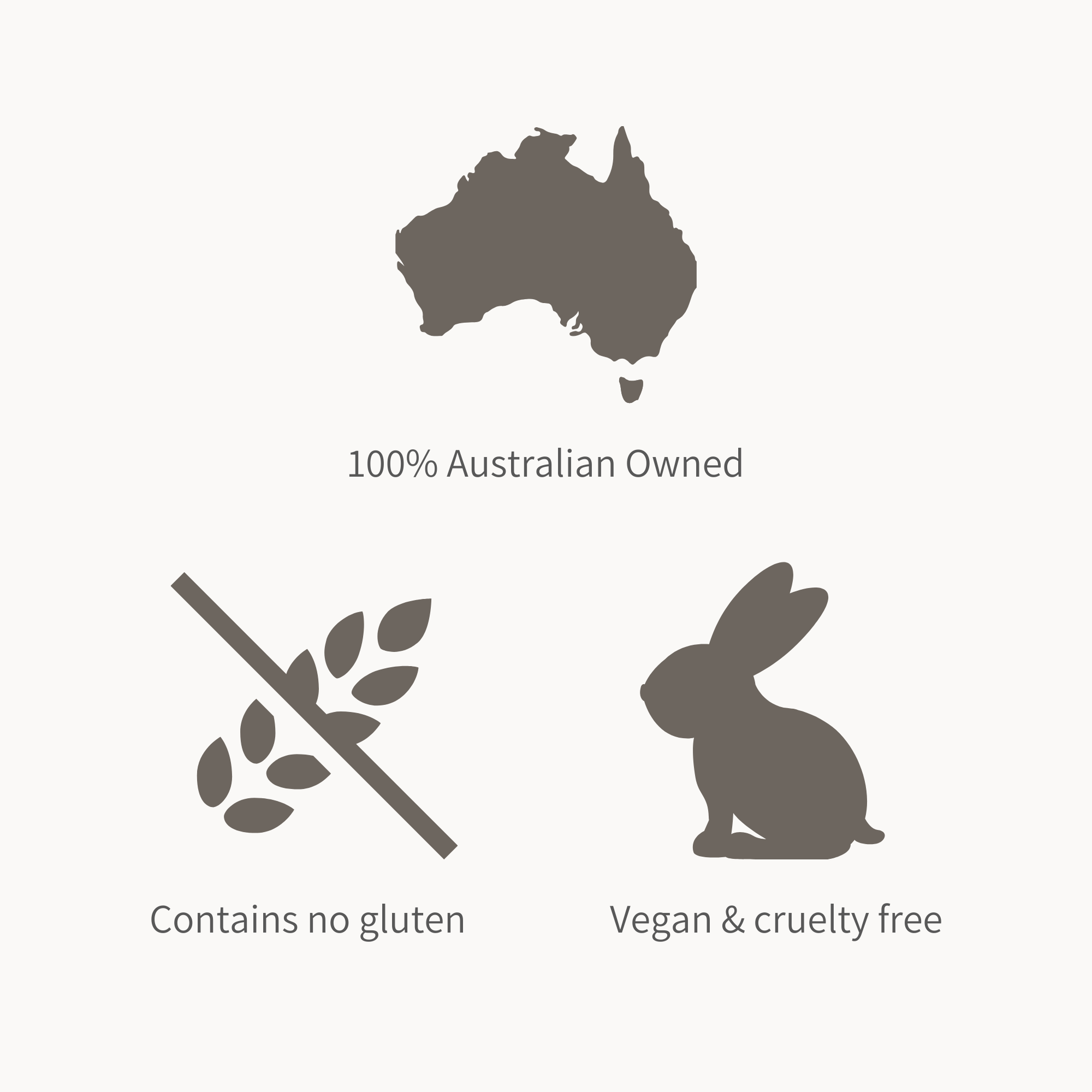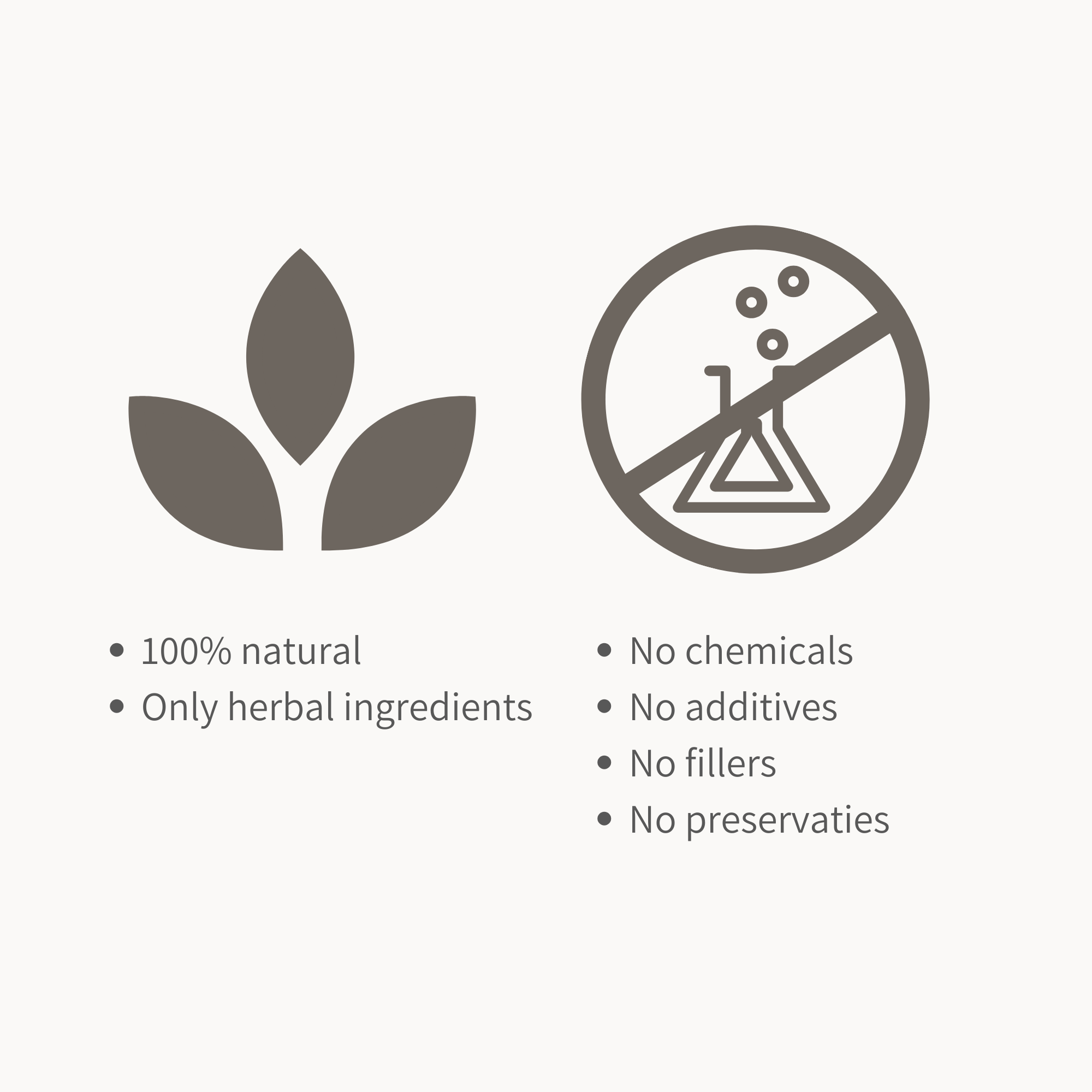 Free yourself from bloat for good.
Hear it from happy customers!
All our reviews are genuine and unedited, and sent in from real users.
"I feel so much lighter in my tummy. I used to feel bloated even when I didn't eat.
I mean... what's with that? Doesn't matter, it's gone now!"
I have always believed the gut is linked to my energy and my concentration, I used to get brain fog everyday, and by 10am I had to nap. I feel so so so so much better after taking this formula. My gut feels more settled (less gurling and gas) but more importantly my energy is up, I am less sluggish and I am not having the fogginess in my head. I'm so impressed.

The best digestive tonic you've never seen.
Chinese Medicine has linked wellness to digestive health for thousands of years,
well before it was a 'thing'. Different to anything else you've seen, this boosting Chinese Medicine digestive tonic works on the root cause of why you bloat.
Don't just work on the symptoms; heal your digestion instead.
A CHINESE MEDICINE PERSPECTIVE
A LESSON ON DIGESTIVE HEALTH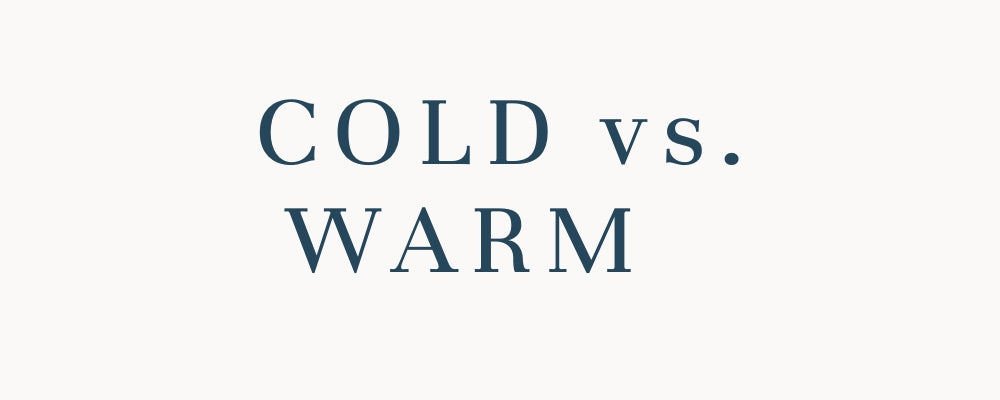 A fundamental concept in Chinese Medicine talks a lot about 'warm' and 'cold' properties. Here are a few examples: Ginger kept in the fridge is still classified as a warm food as it possesses warming properties – even fresh from the fridge. Peppermint, on the other hand, has cooling properties, even when it is served as a hot tea.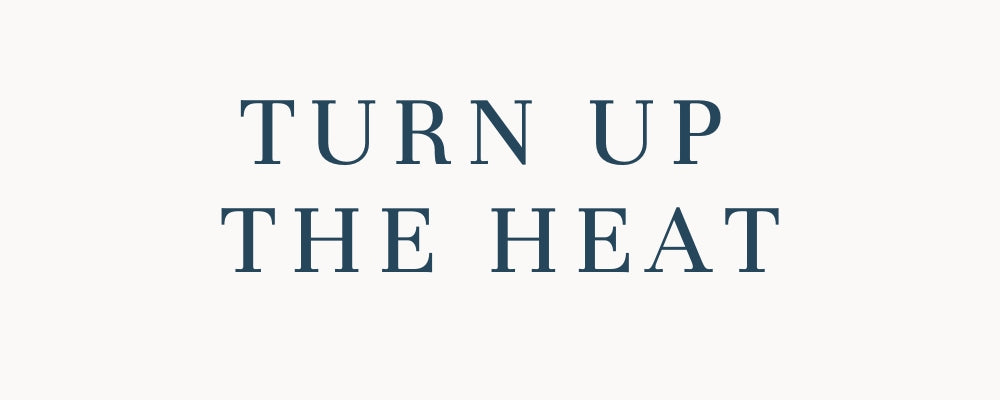 A sluggish digestive system in Chinese Medicine is often described as having a 'cold' stomach and not having enough digestive 'fire' to support the digestion. This concept can be likened to your stove not being turned up high enough to boil the pot of pasta.
The digestive system prefers being 'warm', and almost always favours thermogenic foods.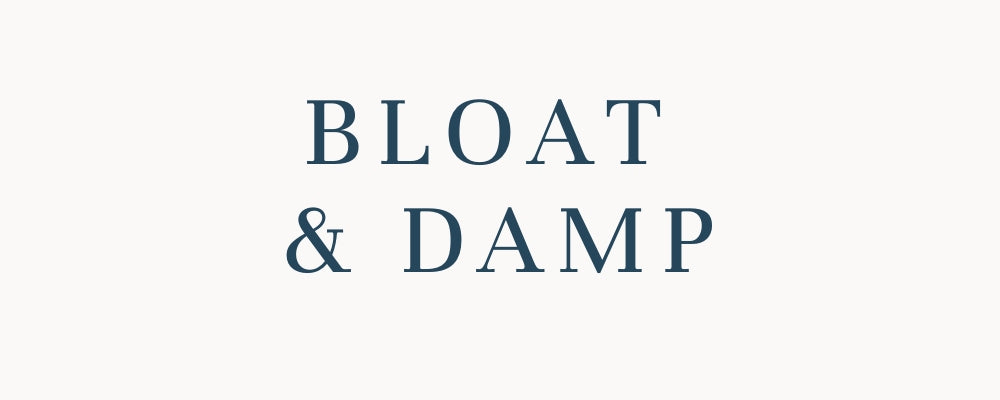 'Dampness' occurs when the digestion is 'cold' and digestive energy is weak, causing the body to hold onto water and struggle to dispel waste. Signs and symptoms of this can include bloating, loose stools, fluid-retention, sluggishness and digestive discomfort.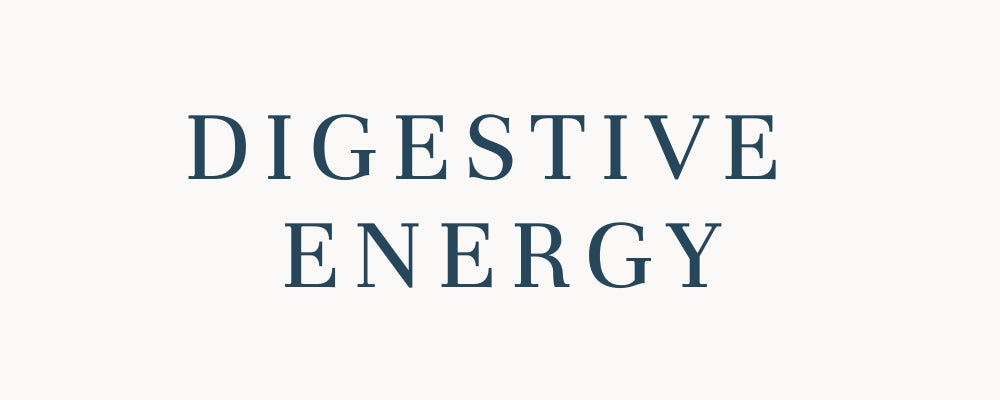 Your digestive Qi ('Qi' is the Chinese word for 'energy') can become weak, causing digestive symptoms. The Chinese herbal medicine ingredients in Zilch Digestion + Bloat Formula can replenish and nourish weak digestive energy.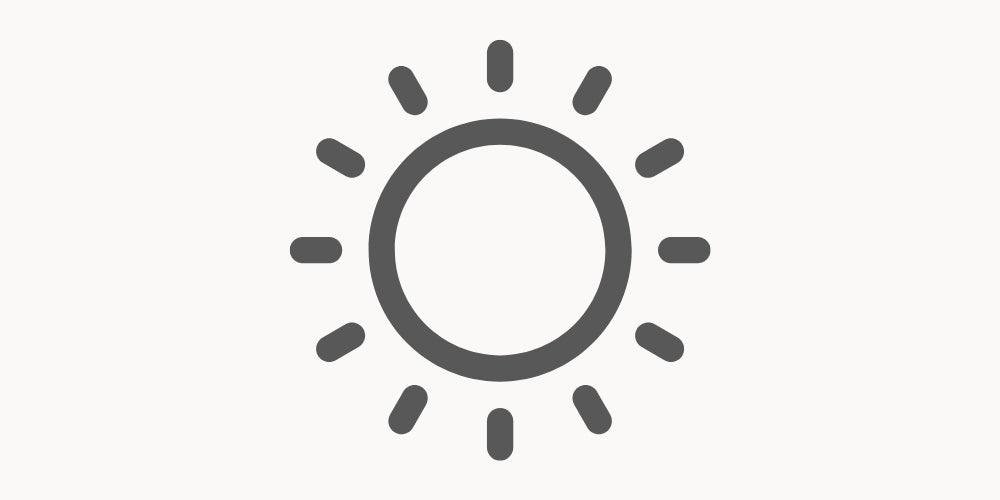 Warms the stomach and gently strengthens digestive fire.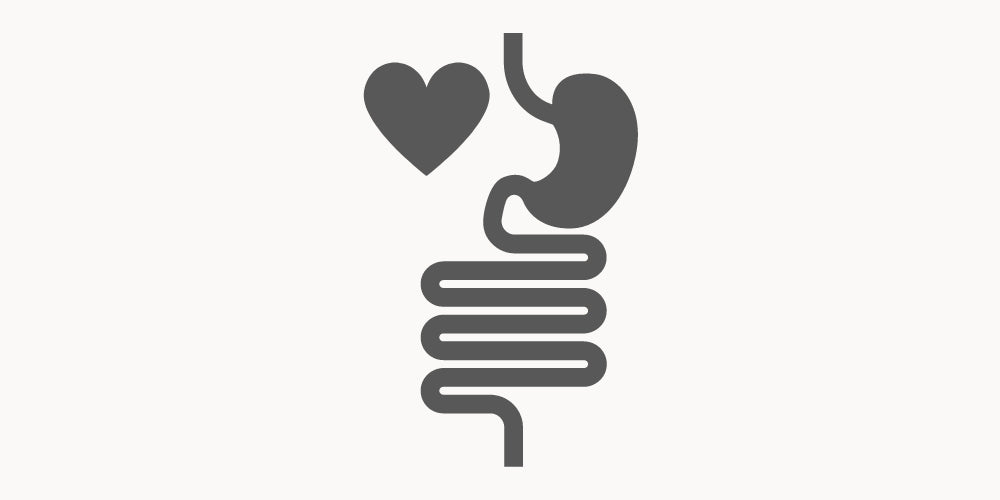 Boosts digestion, removes food stagnation and nourises digestive energy.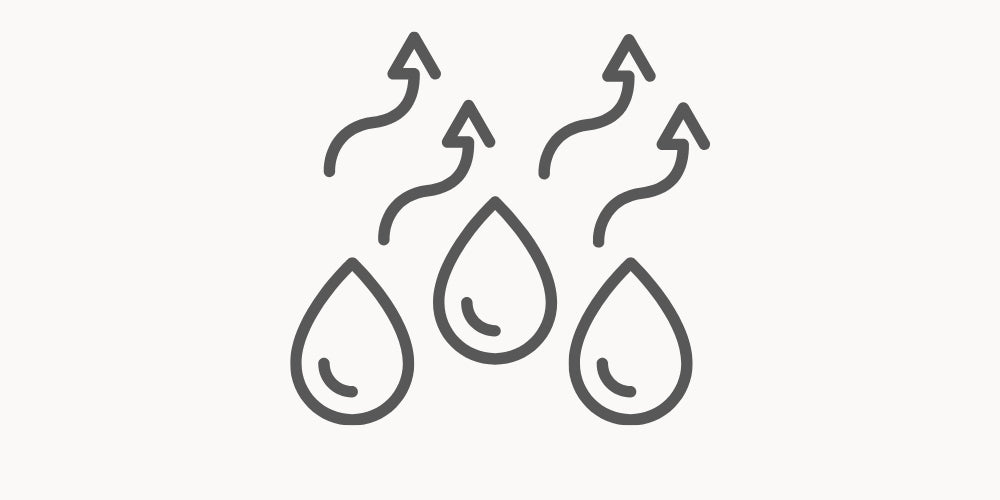 Boosts digestion, removes food stagnation and nourishes digestive energy.
OUR CORE VALUES
THE ZILCH FORMULAS DIFFERENCE
100% natural, truly.
Zilch Formulas supplements proudly contain only herbal active ingredients, and potato starch is used as a binder–that's all. Thanks to our highly specialised and unique extraction process, our formulas contain no nasties, chemicals, fillers or preservatives.
Nothing to hide.
We pride ourselves on our authenticity and approach everything we do with honesty and transparency. Our products are formulated by a Dr. of Chinese Medicine in a real clinic, our real user reviews are unscripted and unedited, and we are a genuine company looking to make a real difference.
Special extractions.
Our formulas are batch made from scratch with raw herbal ingredients. Our unique and highly specialised extraction process allows us to transform these herbs into potent and pure extracts without the use of any additives apart from potato starch. This whole process can take up to 4 months.
Giving back.
Wellness for all, compassion for all- we believe in creating a world of inclusive wellness that is kind to animals and cruelty-free. Zilch Formulas is committed to supporting animal welfare charities–we contribute an amount from every bottle sold.
A note on our reviews
In compliance with the Therapeutic Goods Administration (TGA) advertising code, we cannot provide remuneration or incentive for review on TGA listed and registered products.
Reviewing

Zilch Digestion + Bloat Formula

FABULOUS!

I was noticing during the day I was feeling bloated and gassy, it was so uncomfortable, and it was beginning to make me feel insecure. So, I decided to give Zilch Digestion + Bloat Formula a try and within days I was beginning to see a difference. My belly was not inflating like it used to, I just felt more comfortable as a whole, and I also noticed the 'brain fog' I was often experiencing was also less frequent than usual, which was a silent relief as I was beginning to think I was losing my mind :) We often take what we ingest for granted, not thinking about what this is doing to my insides, it's comforting to know that by taking these daily I am putting a bit of good in my body and even better when you can actually see and feel the difference!

Fan Yi Y.

Verified Buyer

Reviewing

Zilch Digestion + Bloat Formula |

Works very well

I like this tablets very much. It is great for helping me when I go to toilet. Before when I eat, I always need to go right after and it is usually very soft and my stomach has pain when I need to go. Now, it is normal and there is no pain. I am also notice a lot less gassy. Thank you to you ~~ ~

Monica S.

Verified Buyer

Reviewing

Zilch Digestion + Bloat Formula |

10 stars!!!!!

I am singing your praises Dr Vivian! I don't even know where to start with this one, but I wanted to write a really detailed review to help anyone that might be in a similar situation to me. In 2017 I was diagnosed with IBS (symptoms being bloating, gassiness, constipation, diarrahoea, discomfort, hard stomach all the time) and went down the path of trying to fix it through my diet. I went to see someone and was on a strict elimination diet, and ended up cutting out at one point dairy, sugar, gluten and histamines. This honeslty didn't leave me with very much room food wise, and it was sustainable. It did help a little, but not enough for me to keep on the drastic food plan. I went to see a naturopath who said I had leaky gut and prescribed like 12 different supplements morning, afternoon and night. I committed and did it for 4 months, and it did help for a little while, and then I stopped beacuse it honestly got too expensive, and within a month i was feeling all the symmptoms again. Plus it was slow to work. I spoke to a friend who had a lot of success with Chinese Medicine so I thought I had nothing to lose... It was explained to me that my gut lacked 'fire' and that thats why my digestion had difficulty digesting my food. He said that my digestion system showed a lot of signs of "coldness" and that herbs were able to heal me completely. I was sorry to say that I lasted all of 10 days on the herbs as i had to boil them twice a day and drink this awful tea. Fast forward two…

Felicia G.

Verified Buyer

Reviewing

Zilch Digestion + Bloat Formula |

No more brain fog.

LIFE CHANGING! THANK YOU Dr. Vivian for this formula, it has helped me a lot. I have always believed the gut is links to my energy and my concentration, but everytime I asked my doctor to check me I was dismissed. I used to get brain fog everyday, and by 10am I had to nap. I feel so so so so much better after taking this formula. My gut feels more settled (less gurling and gas) but more importantly my energy is up, I am less sluggish and I am not having the fogginess in my head. I'm so impressed.

Kristine C.

Verified Buyer

Reviewing

Zilch Digestion + Bloat Formula |

Very impressed.

Zilch Digestion + Bloat has reduced my gassiness and loose stools. I am lucky enough not to have bloating or pain, but I had discomfort. I was told once that its important to check your stools, and when I do, they never seemed formed "like a banana or sausage" which is what a healthy stool should be according to my naturopath. I am excited to report it now is indeed holding its shape and no longer soft and sloppy (Apologies, TMI!)
Reviews Loaded
Reviews Added