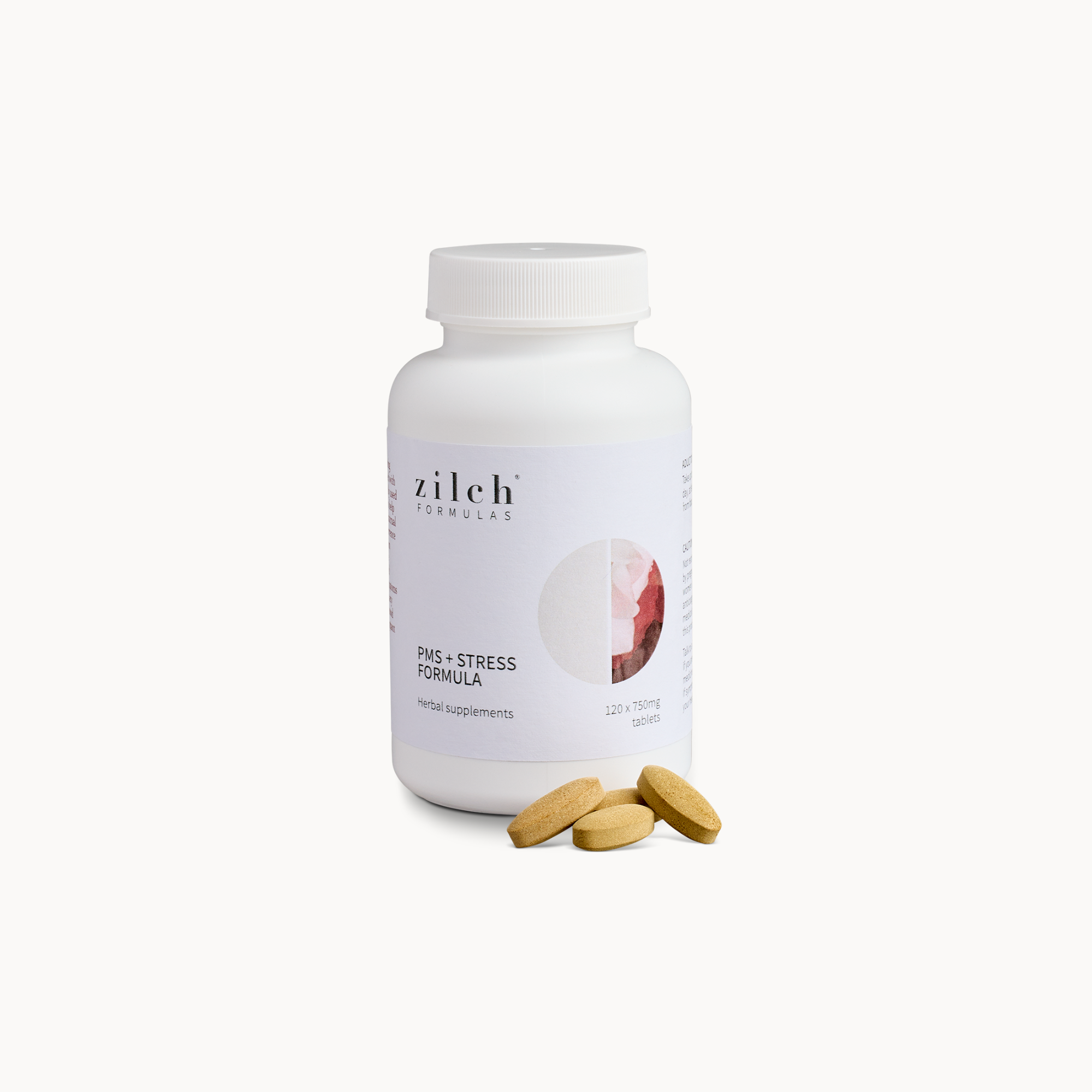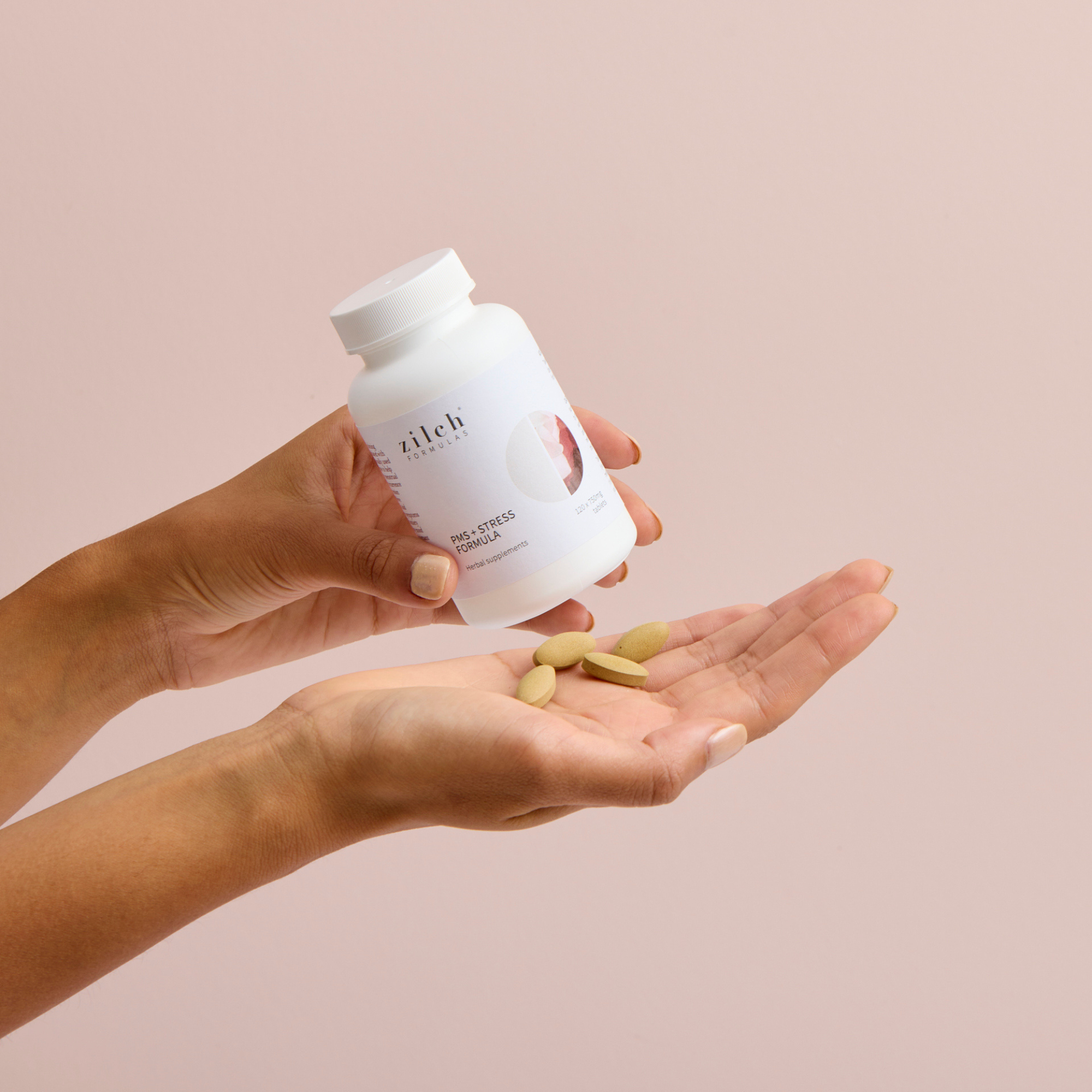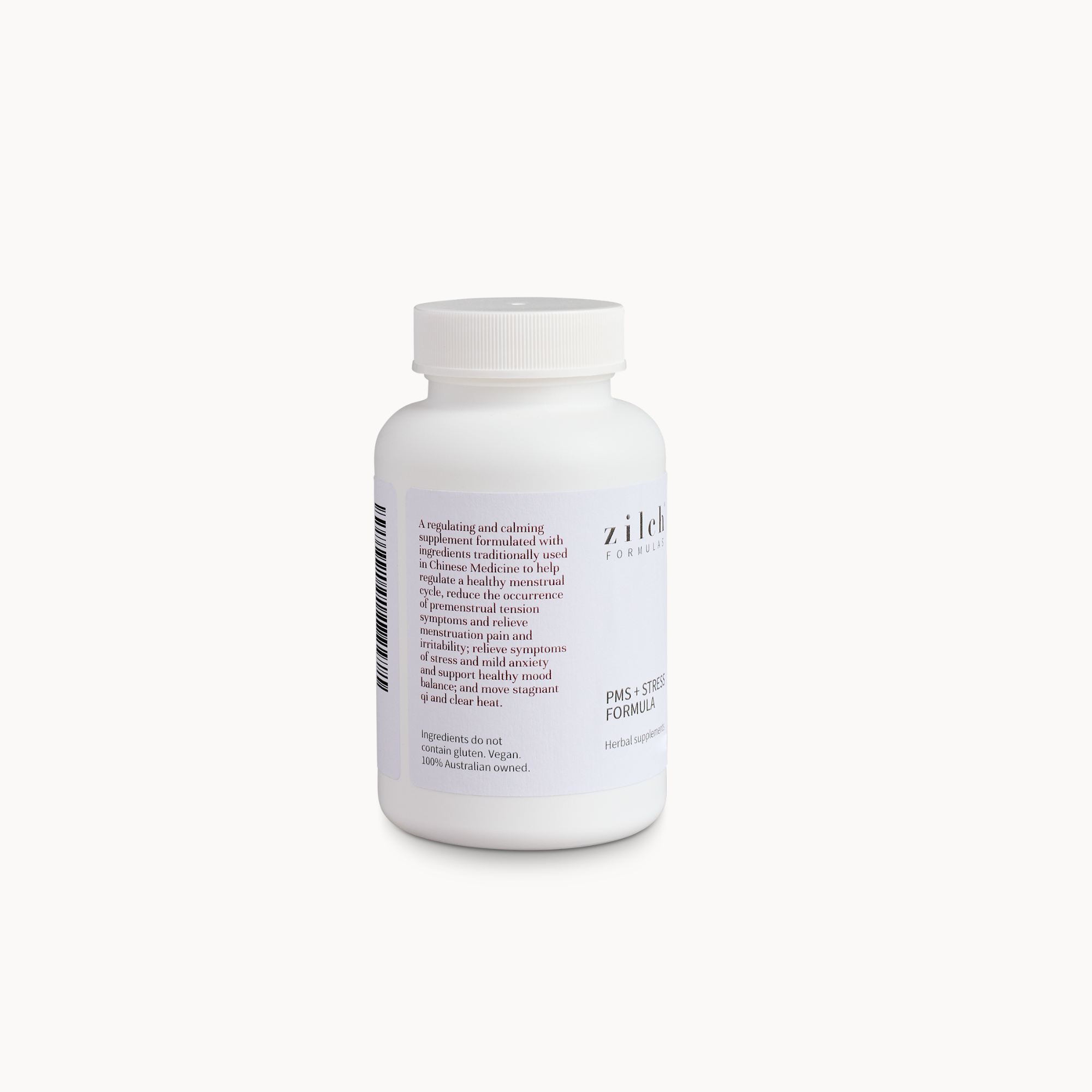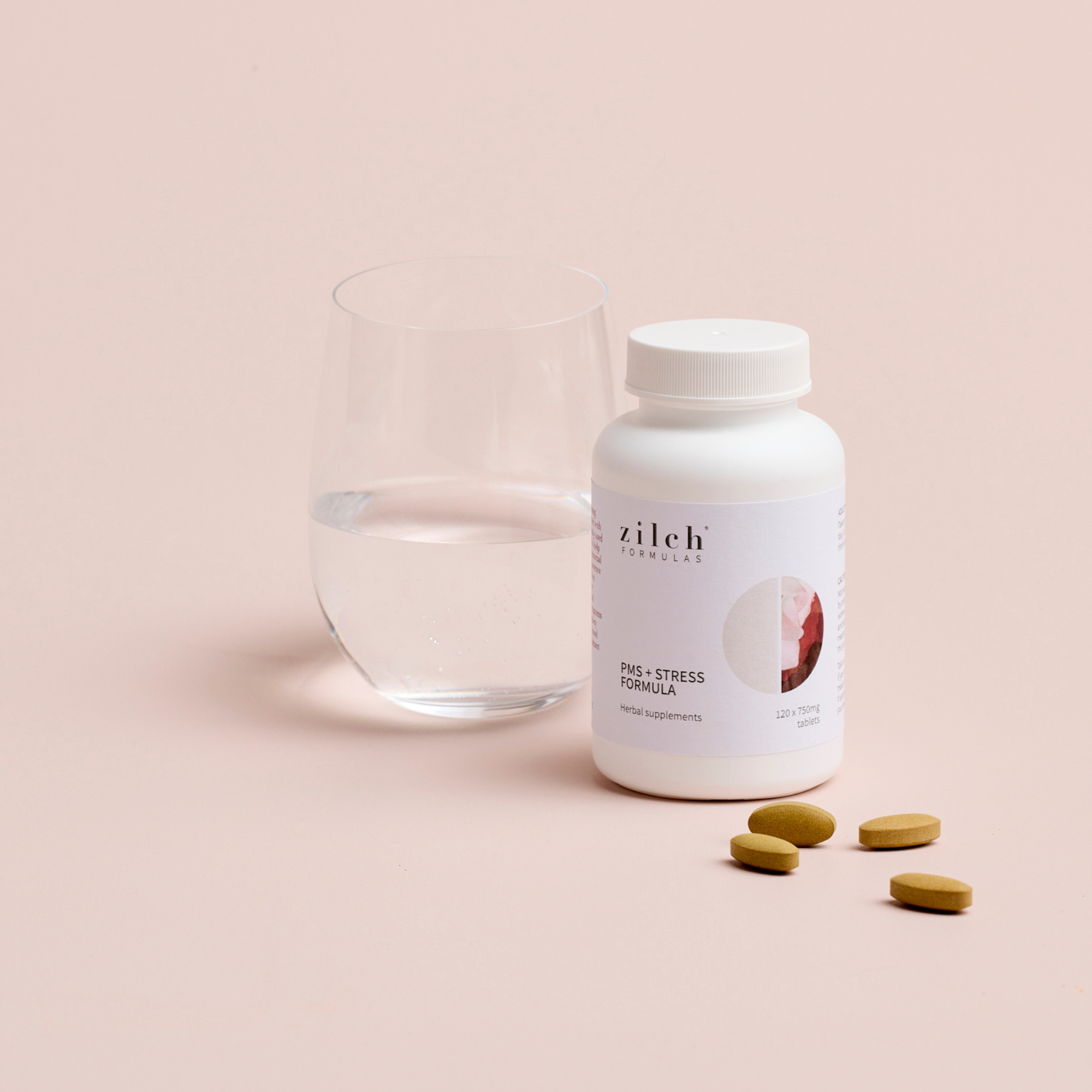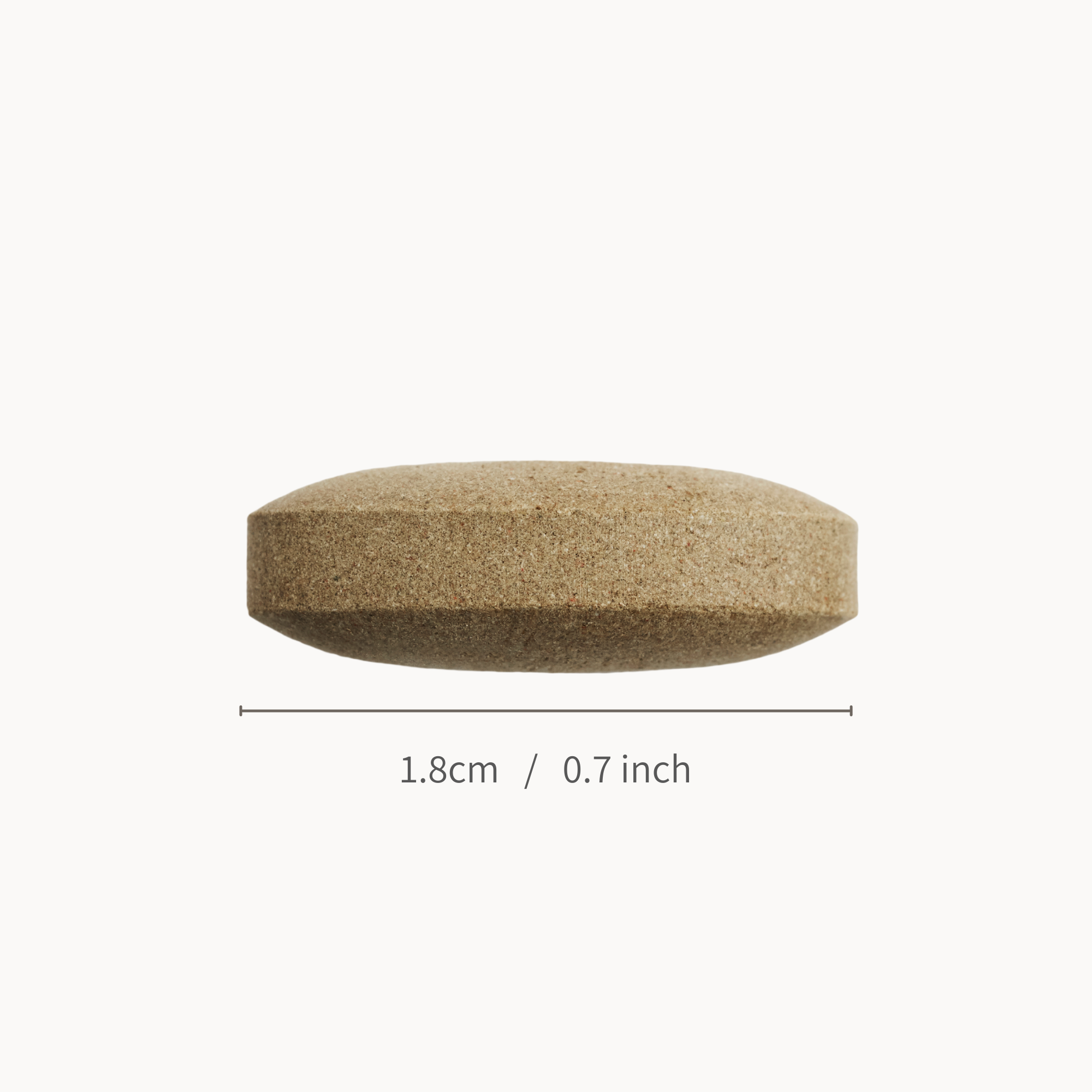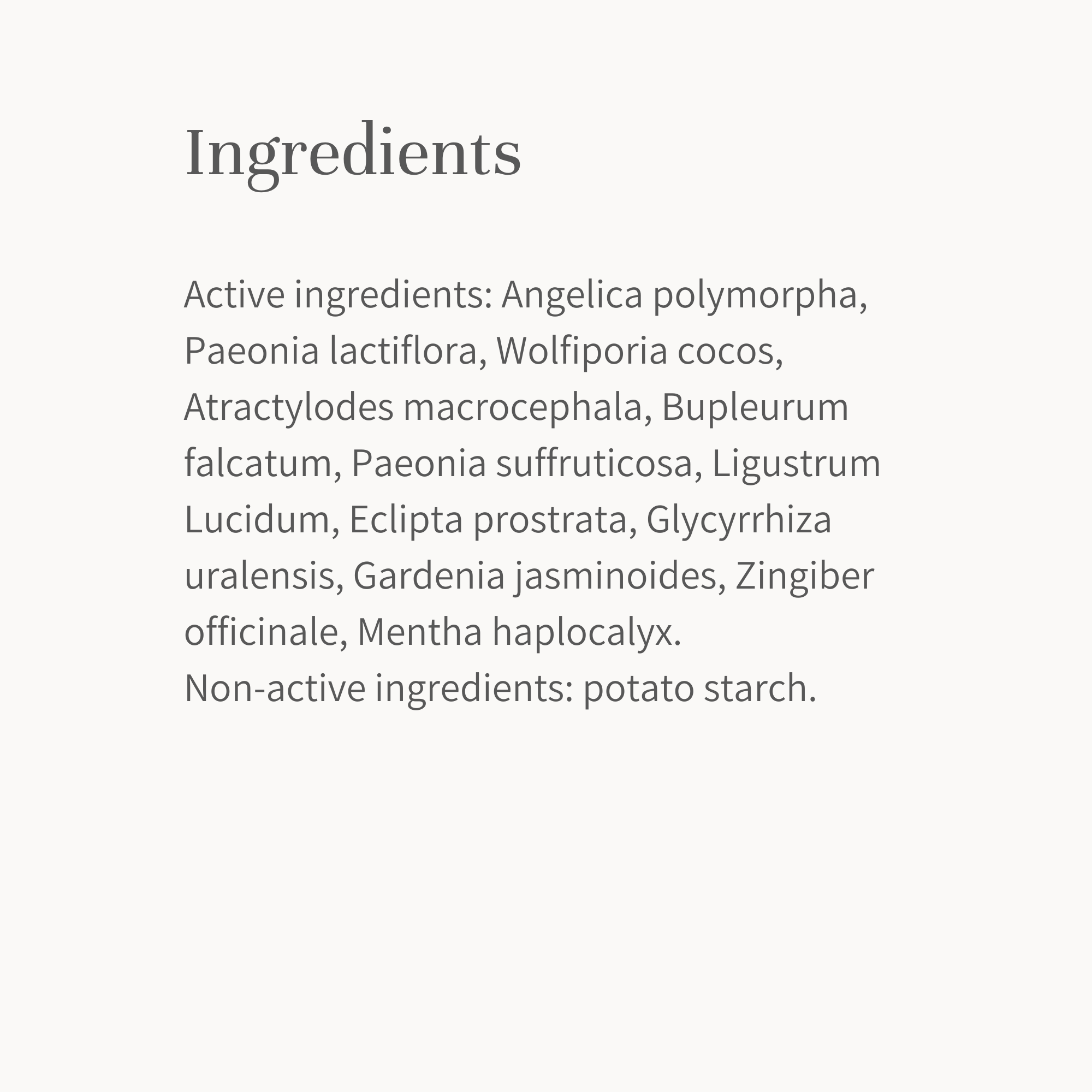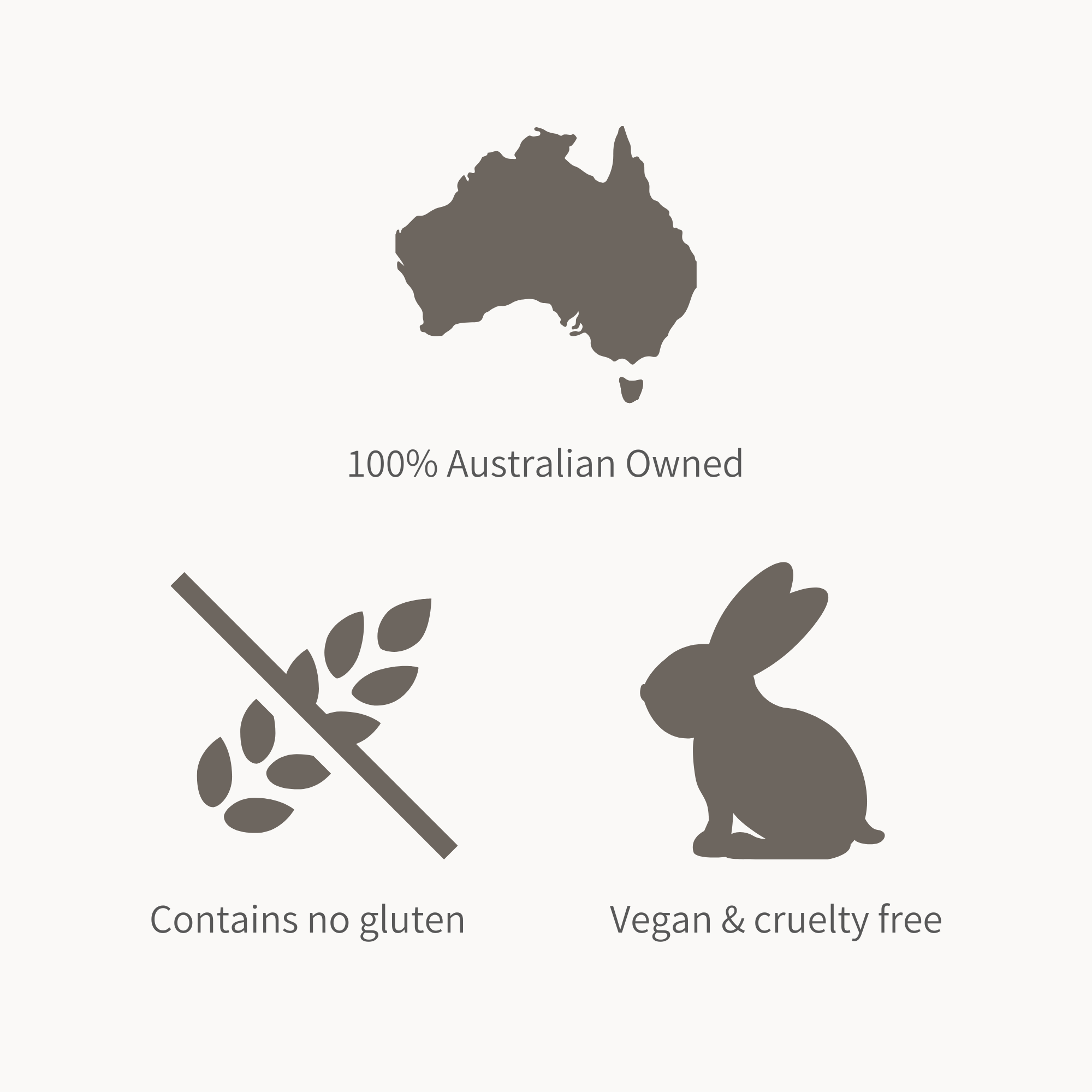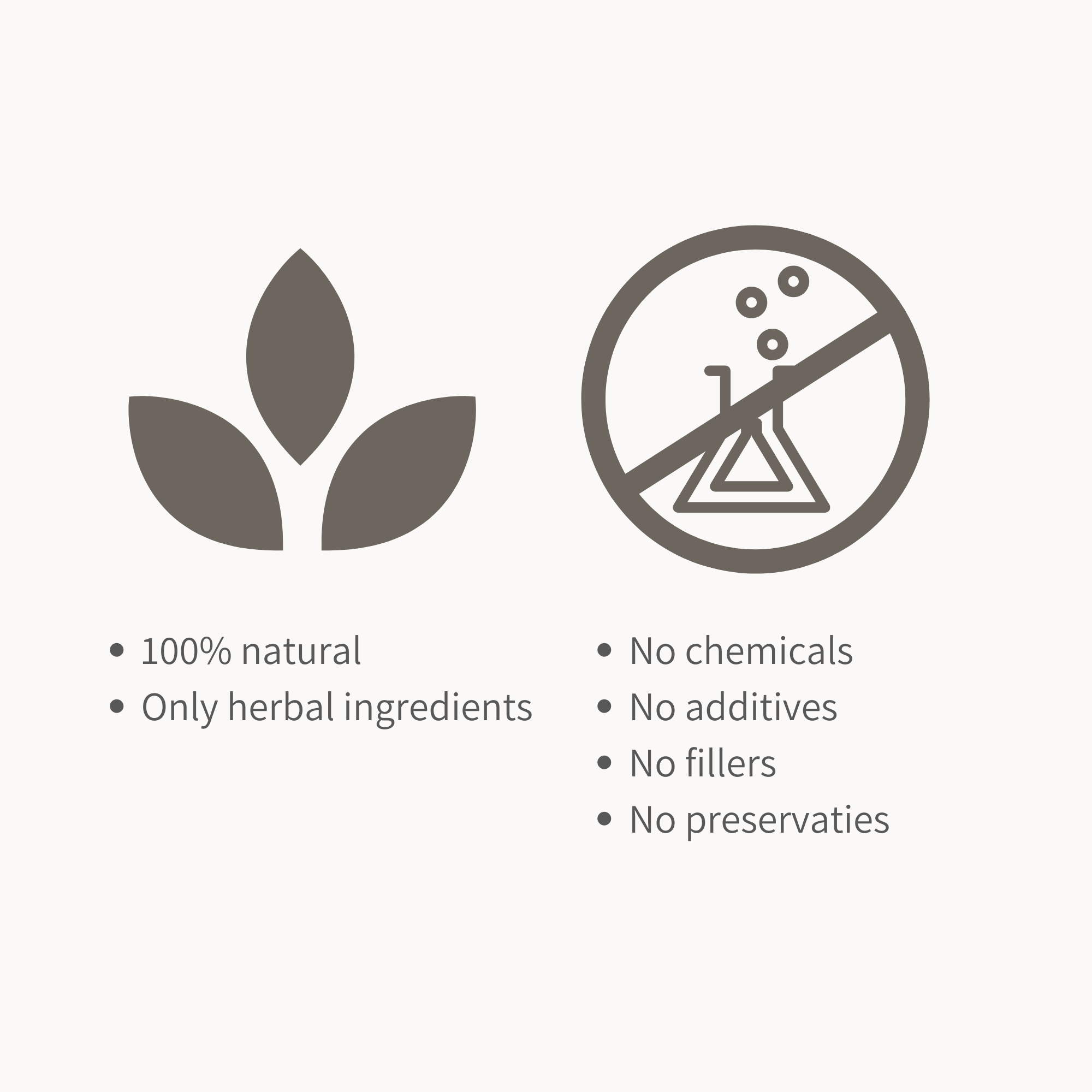 My first period without cramping, acne and mood swings. It was amazing!
Zilch PMS + Stress Formula
Sale price

$71.00 USD
Regular price
(/)
PMS & Stress free for $2.30 a day.
---
Zilch PMS + Stress Formula –a simple balancing act.
One bottle contains 120 x 750mg tablets (30 day dose).

Zilch PMS + Stress Formula is a 100% natural, hormone-regulating and stress-calming supplement–made with Chinese Herbal Medicine ingredients– designed to tackle premenstrual and hormonal symptoms, all while easing the symptoms of stress and anxiety.
• All natural – 100% Chinese herbal medicine active ingredients
• No harsh chemicals, drugs or preservatives
• Ingredients do not contain gluten. Vegan and cruelty free.
• 100% Australian owned
*** U.S Shipping. All U.S orders will be temporarily dispatched from the Melbourne warehouse until further notice.
WHAT IT CAN HELP WITH

Zilch PMS + Stress Formula may assist with:
• Premenstrual tension (PMS) such as mood swings and irritability, pain and cramping, acne, bloating and fluid retention, breast tenderness and swelling, sleeplessness, fatigue.
• Irregular menstrual cycle
• Stress and anxiety symptoms such as general irritability, nervousness, mood swings, tight chest, tight muscles, jaw clenching, broken sleep, sighing and the need to take deep breathes.

INDICATIONS
Traditionally used in Chinese medicine to:
• clear/expel stagnant Heat
• tonify/nourish/strengthen/ replenish/invigorate/enrich/liver/liver-qi
• move/activate/dissipate stagnant qi
• tonify/nourish/strengthen/replenish spleen-qi
• resolve liver-stasis
• relieve irritability
• decrease/reduce/relieve symptoms of stress
• decrease/reduce/relieve symptoms of mild anxiety
• support healthy emotional/mood balance
• maintain/support/regulate healthy menstrual cycle
• decrease/reduce/relieve menstruation pain/dysmenorrhoea
• decrease/reduce feelings of aggression/irritability associated
with premenstrual tension
• decrease/reduce/relieve symptoms of premenstrual tension
• help reduce occurrence of premenstrual tension symptoms
INGREDIENTS

PMS + Stress Formula is made up of 12 herbal ingredients, and potato starch is used as a binder. No added preservatives, chemicals, fillers or nasties.

Active ingredients: Angelica polymorpha, Paeonia lactiflora, Wolfiporia cocos, Atractylodes macrocephala, Bupleurum falcatum, Paeonia suffruticosa, Ligustrum Lucidum, Eclipta prostrata, Glycyrrhiza uralensis, Gardenia jasminoides, Zingiber officinale, Mentha haplocalyx. Non-active ingredients: potato starch.

Visit our ingredients page to learn more.
CAUTION

Not recommended for use if pregnant or breastfeeding. Individuals taking anticoagulants should seek medical advice before taking this product. If symptoms persist, talk to your health professional. Talk to a TCM practitioner/health professional if you are unsure if this product is right for you.

ALWAYS READ THE LABEL AND FOLLOW THE DIRECTIONS FOR USE.


Medical disclaimer:
All content and information on this website is general in nature and does not intend to constitute medical diagnosis, medical treatment and medical advice. Our product(s) is not an individualised product (it is not a product that is tailored specifically to you) and all information provided is not a substitute for medical advice and is for general in nature.

Please consult your medical practitioner or doctor if you have any queries before taking this product, continuing this product or if you have any questions about medical conditions.

We cannot give any specific or personalised advice. For advice specific to you (eg: ingredients and allergies, current symptoms and medical conditions), please consult your healthcare professional.

No content about this product is designed to be misleading.

Reactions/allergies to any ingredient(s) in our product(s) is possible, as is reactions/allergies to any ingredient in any goods. Individuals are advised to seek medical advice from your healthcare practitioner or doctor if there are any concerns before starting our product(s).
DOSAGE

Take 4 tablets once a day.
Maximum recommended dosage: 4 tablets twice a day.

Take at least 20 minutes away from food. This means you can take your dosage 2 hours away from food if you want to, but just not within 20 minutes of a meal.
If you are sensitive, try taking your dose 20 minutes after a meal.

For ages 16 and up. Please check with your health professional if you are younger than 16 years of age to see if this product is suitable for you.
SHIPPING

US Shipping:
***Temporarily shipping from Australia.***
All orders to the U.S are temporarily being dispatched from Melbourne until further notice. (Instead of the usual California warehouse.)

Fast shipping: We dispatch all orders next day.


We do not collect, and are not responsible for any duties or customs for international purchases. Please check the rules in your countries regarding imports; you will be responsible to pay this in your country if extra charges do apply. 

Our full shipping policy is here. Please read before purchasing.
WHEN WILL I SEE RESULTS?

Q: WHEN WILL I SEE RESULTS?A:Zilch PMS + Stress Formula is designed to work quickly. Users report reduced feelings of stress and anxiety within a few days, and a dramatic difference in their PMS symptoms within the first cycle.

Q. DOES THIS CONTAIN HORMONES?
A: No, Zilch PMS + Stress Formula does not contain any hormones. The body is designed to naturally regulate itself; the formula has adaptogenic properties to support the body's natural processes, providing it the tools for it to return to balance.

Q: CAN I TAKE IT WITH OTHER SUPPLEMENTS?
A: There are no known interactions with other supplements. Although there are not often interactions with natural supplements and other vitamins and minerals, if you are taking other supplements and are unsure, we always advise to please seek information from your healthcare professional for personalised advice before adding new supplements to your daily regime.

Q: WHAT CHANGES CAN I EXPECT FROM TAKING ZILCH PMS + STRESS FORMULA?

A: You can expect a reduction in Premenstrual tension (PMS) such as:
- improvement in mood swings
- feeling calmer and lighter
- reduced pain and cramping
- clearer skin from acne
- less bloating
- no weight gain pre period
- no breast pain and swelling
- more energy
- a more regular cycle with less/no spotting.

Symptoms of stress and anxiety can also change dramatically.
You may notice you feel:
- calmer and less "on edge"
- more focused and in control
- tight chest feeling lighter
- improved sleep
- less fidgeting and restlessness
- better mood.
HOW DOES IT WORK FOR PMS AND STRESS?

Q: HOW DOES IT WORK ON BOTH PMS AND STRESS?
A: In Chinese Medicine, the symptoms of PMS and the symptoms of stress and anxiety can be caused by the very same imbalance and pattern. Stagnation and blockage in the body can lead to hormonal imbalances causing PMS symptoms and it can also lead to the symptoms of stress and anxiety such as irritability, broken sleep and tight chest. The formula has adaptogenic properties, which helps your body adapt to stress, while balancing other body processes and systems.

Q: I WANT TO USE THIS FOR STRESS, BUT I DON'T GET PMS. CAN I USE THIS?
A: Zilch PMS + Stress Formula was designed to help with PMS and/OR stress. Meaning, you don't have to suffer from both to use it.

You can use Zilch PMS + Stress formula if you suffer from:
- PMS Only,
- Stress and anxiety only,
- PMS and stress together.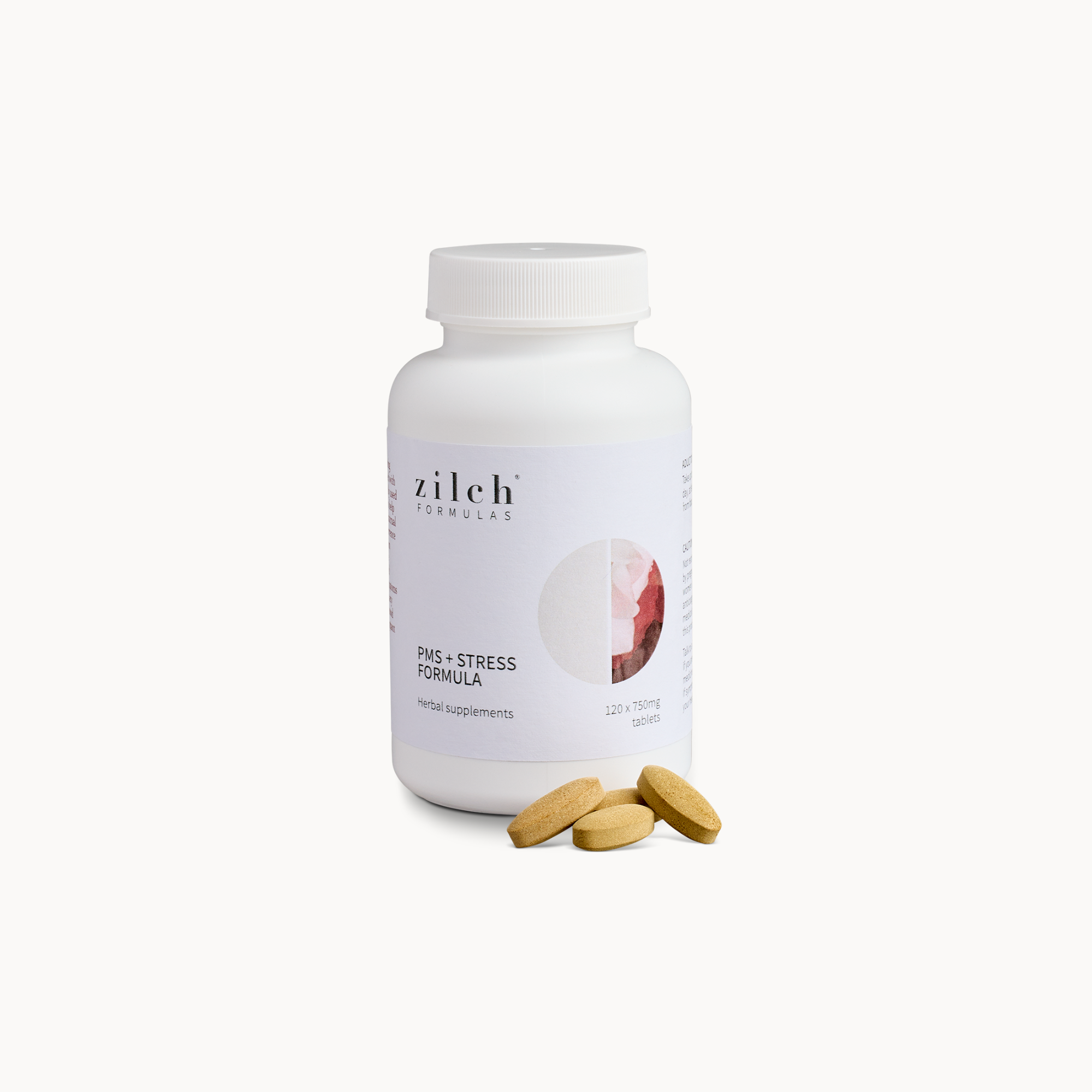 Zilch PMS + Stress Formula
Sale price

$71.00 USD
Regular price
Choose options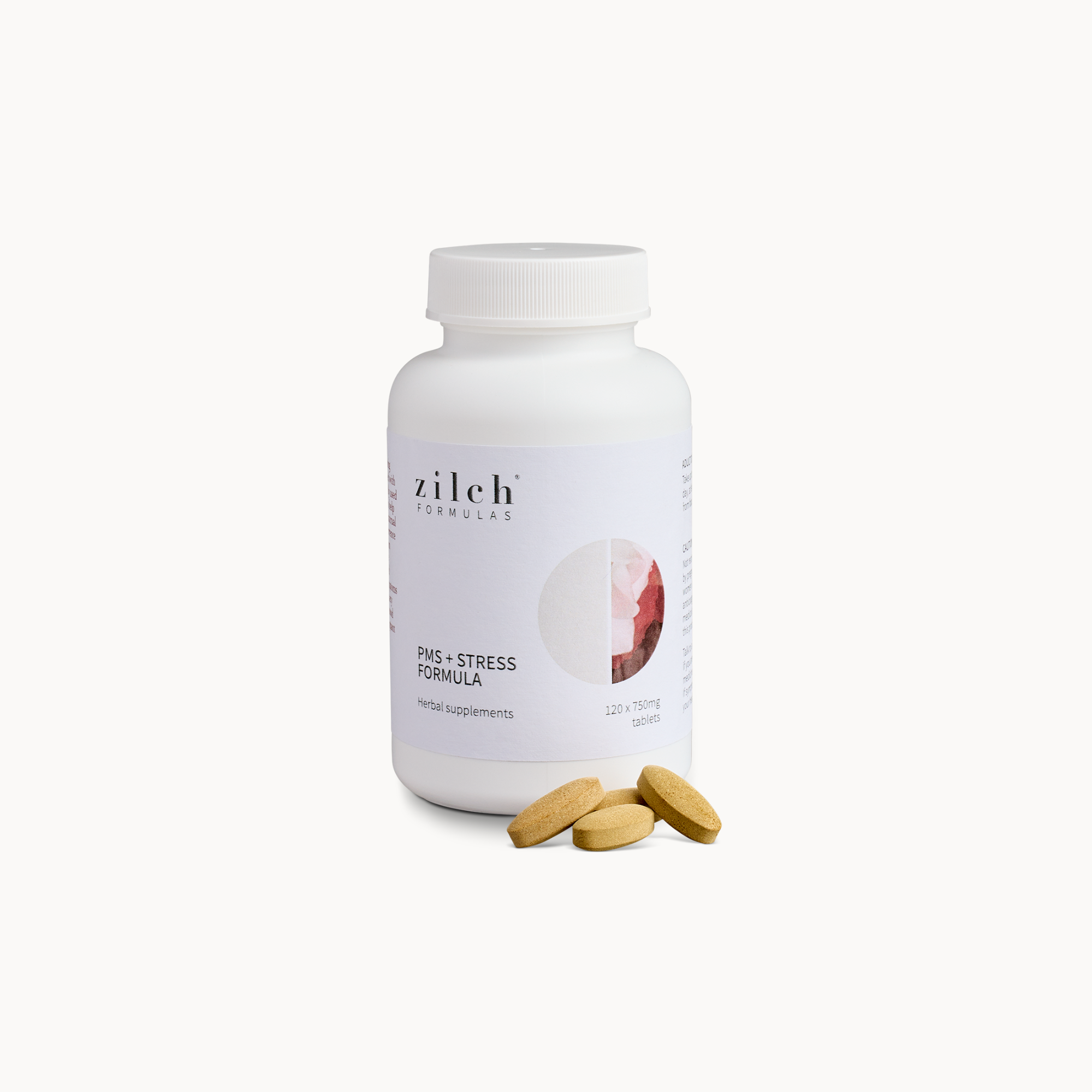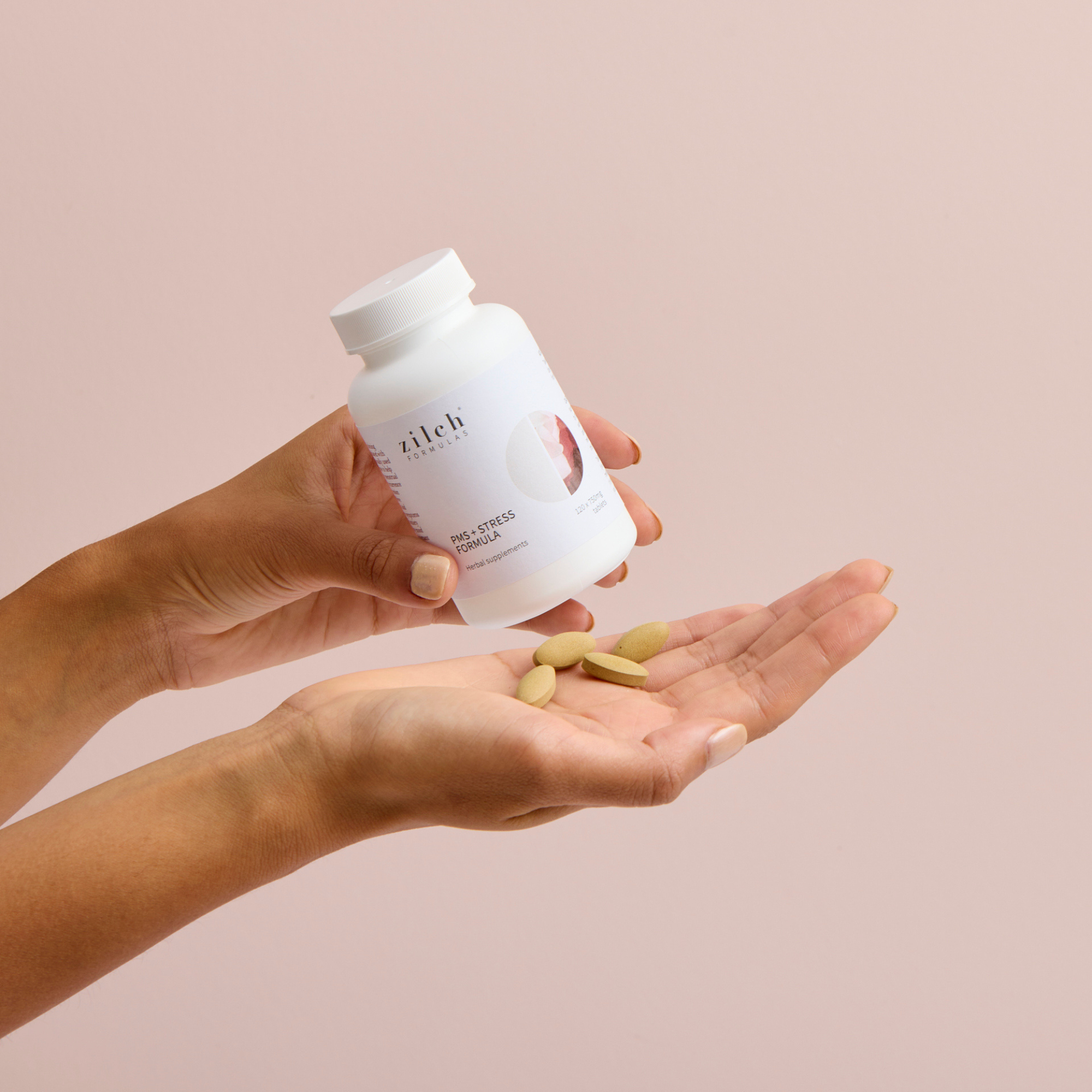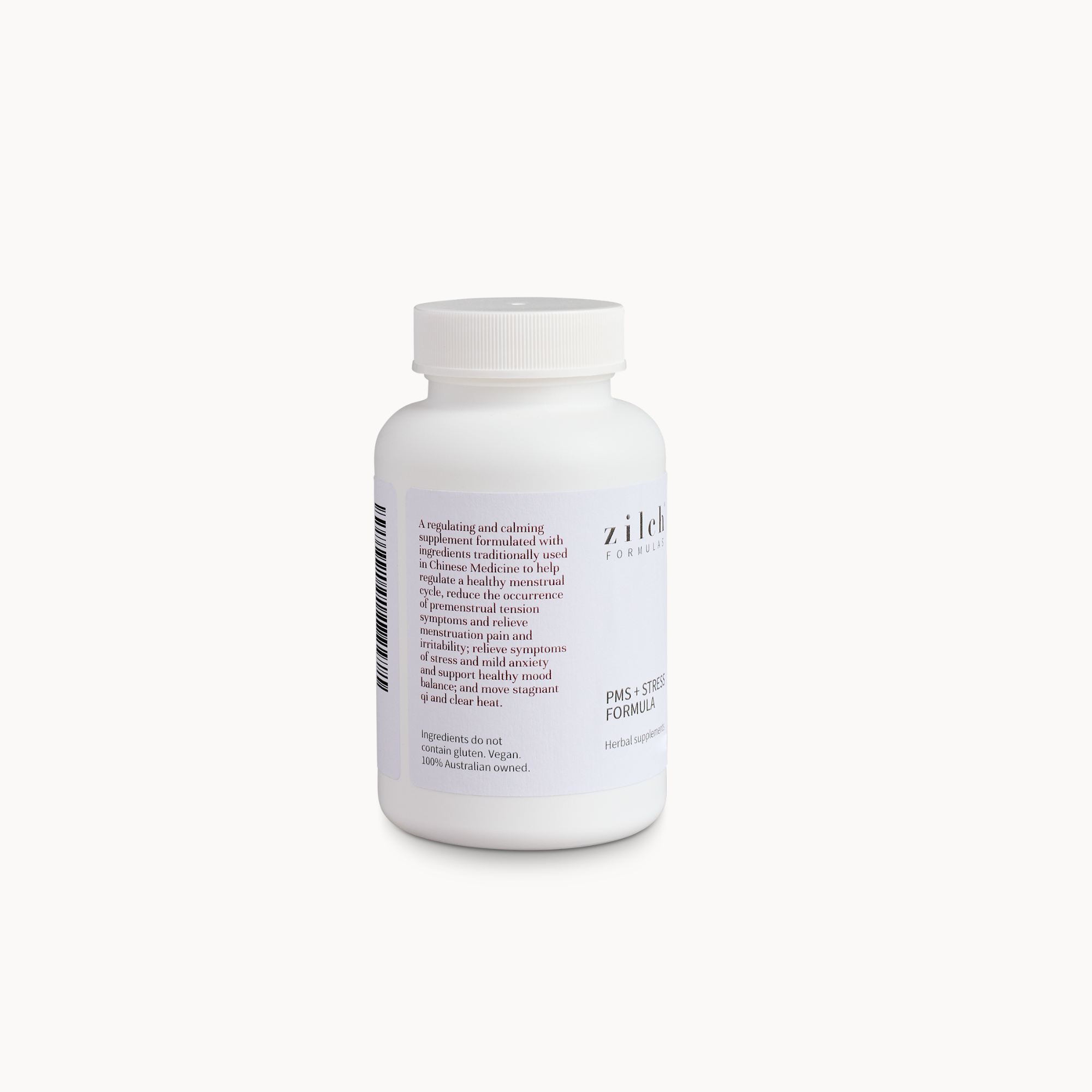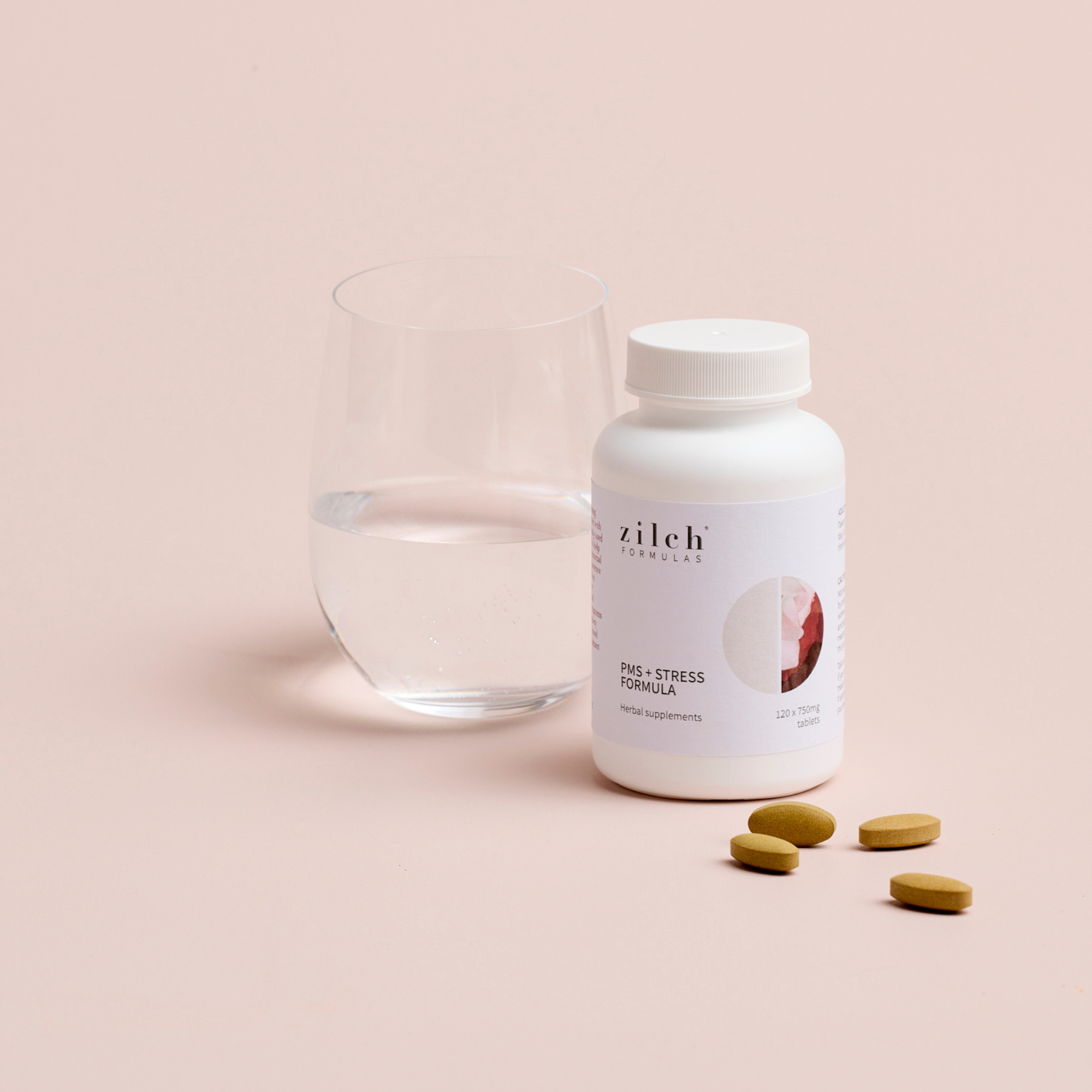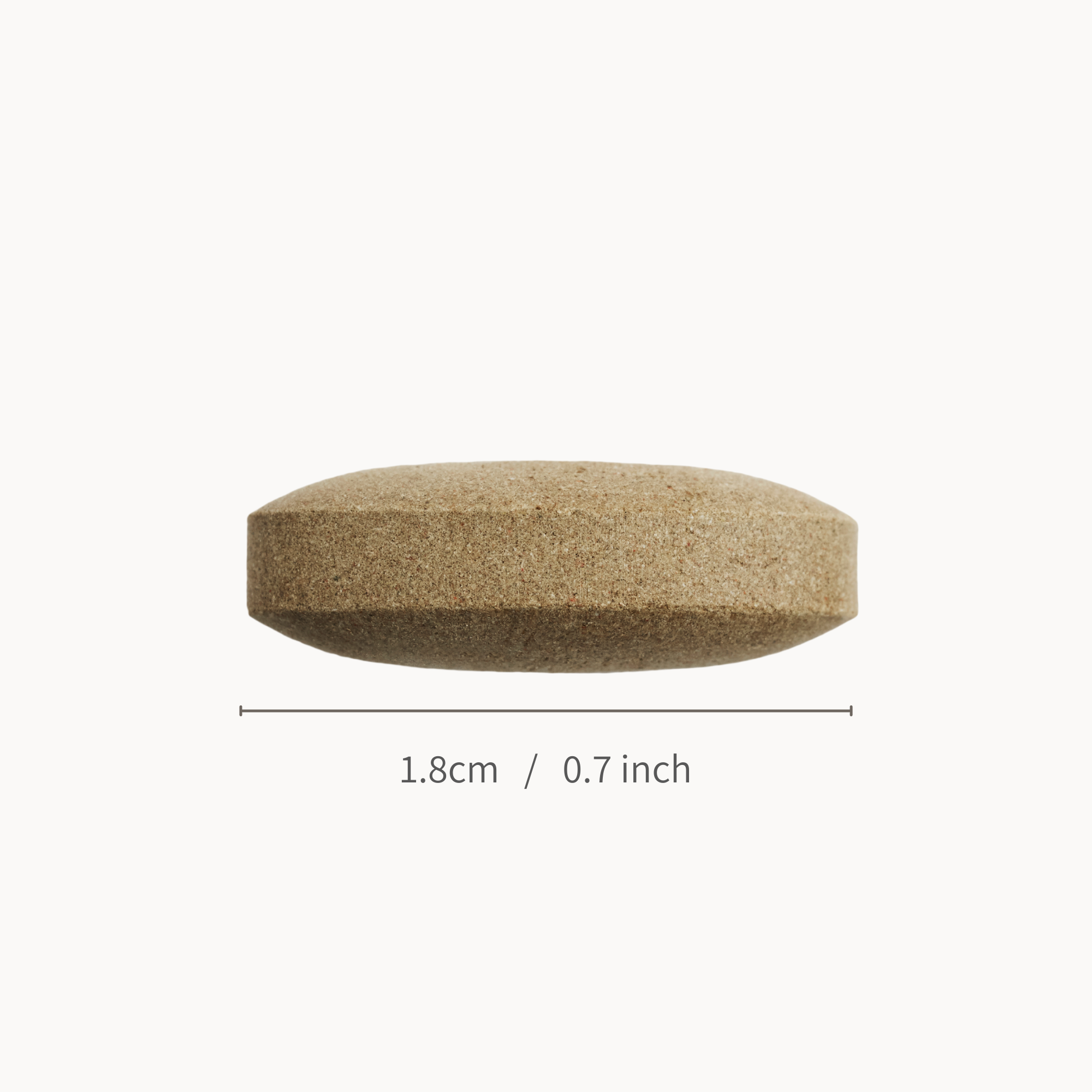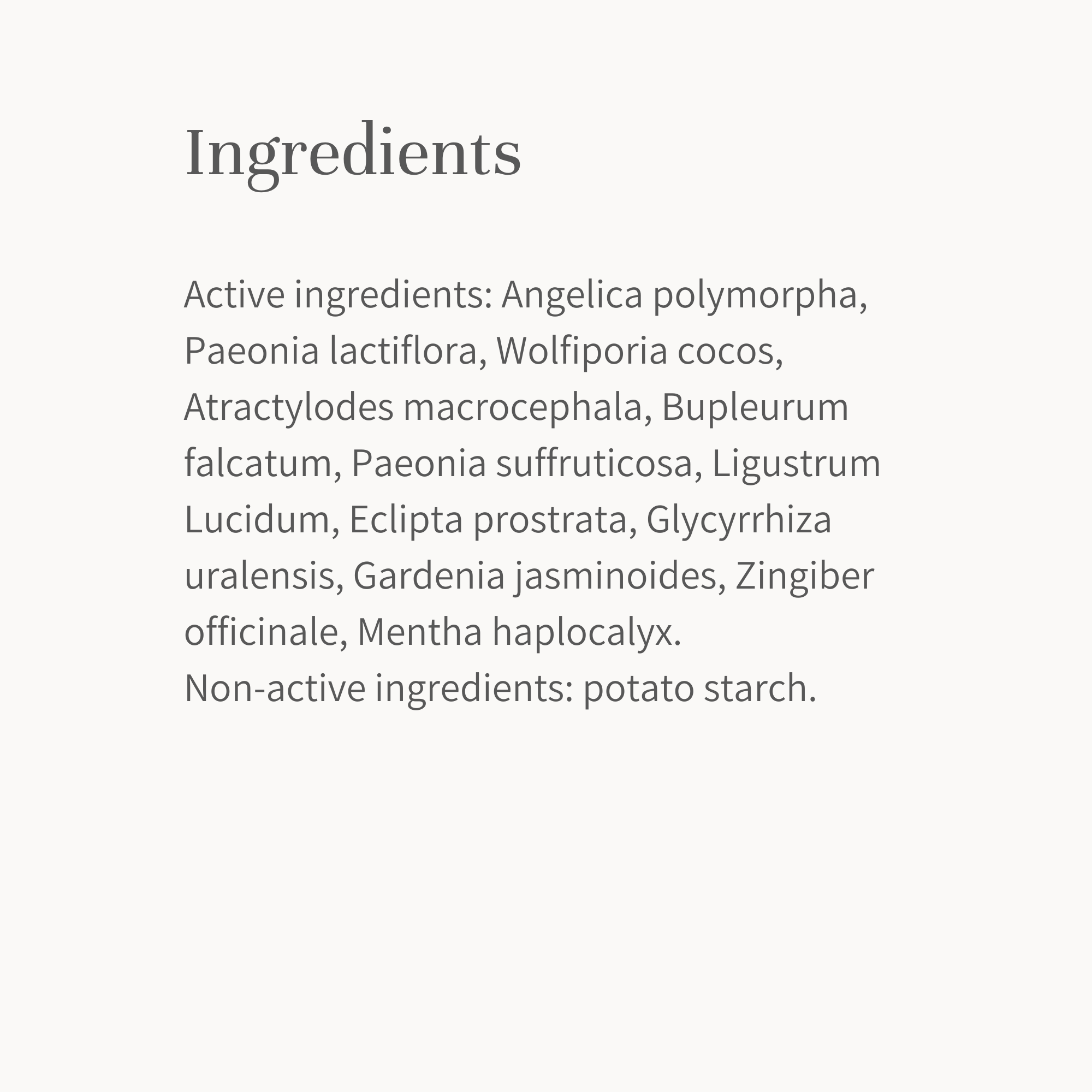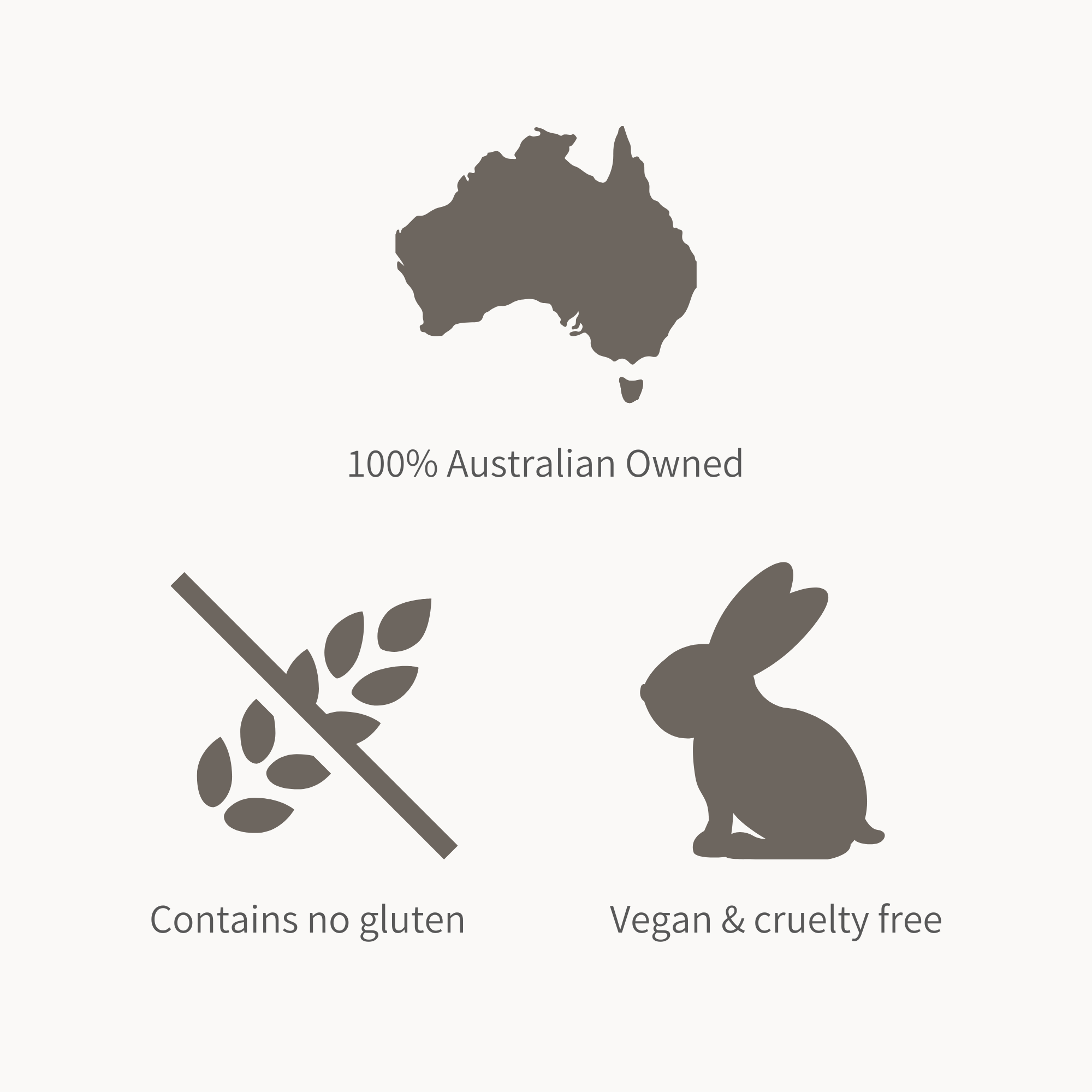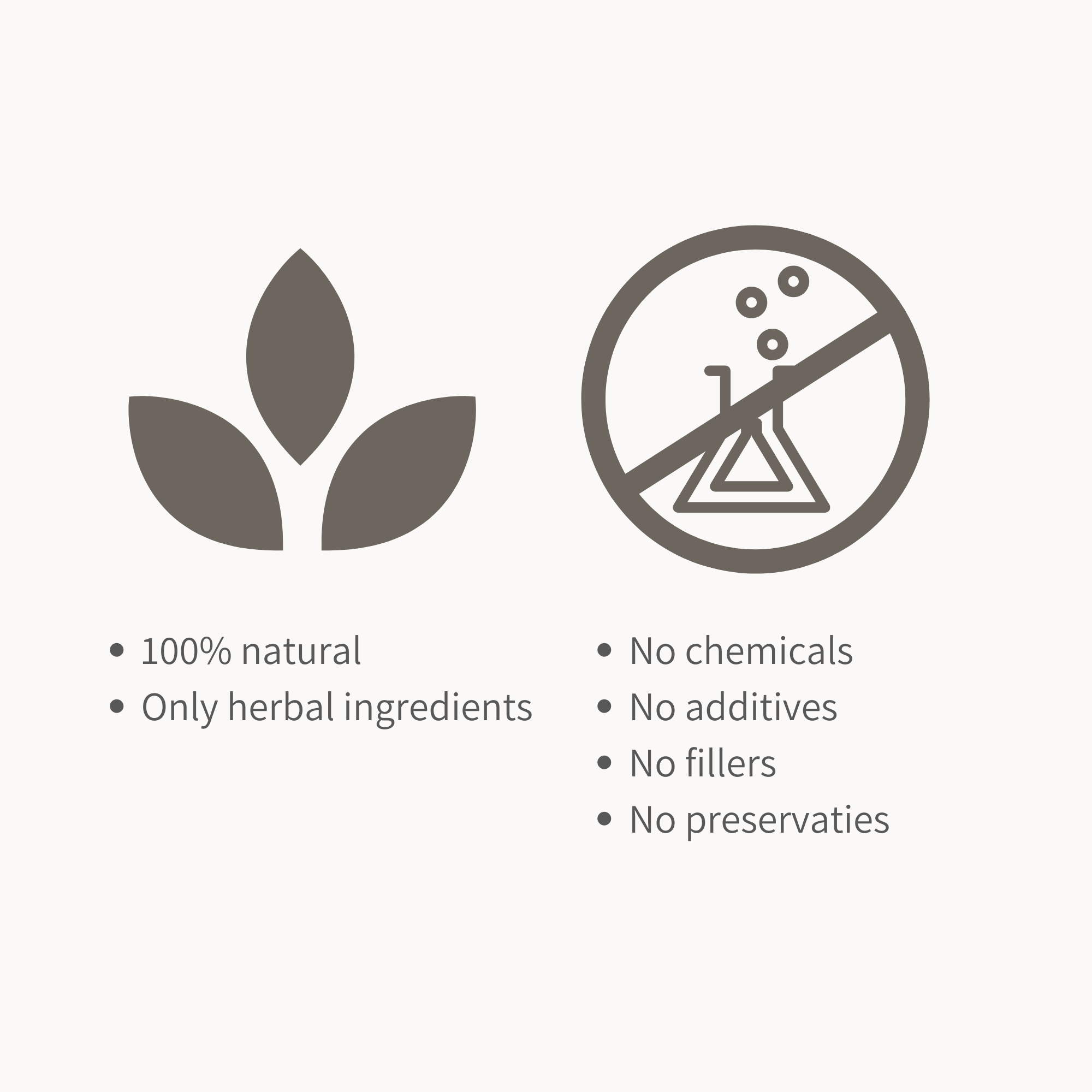 Ready to take back your control from PMS, anxiety and stress?
Hear it from happy customers.
Every single one of our reviews are genuine and unedited, and sent in from real users.
"My period just arrived on time for the first time ever. I usually get breakouts on my jawline, crave carbs and sugar, and feel SO bloated... I waited, but it never happened! I have never experienced such a calm period. Honestly life changing."
"Definitely feeling calmer and less stressed. Not feeling as tight in the chest, and having to take huge deep breathes all the time. Hard to describe, but I feel lighter and less "tight." Very cool that all this can be achieved with herbs."

PMS-free, fast.
Just finished your period, and already dreading the bloat, mood swings and acne in your next cycle? Don't continue to suffer.
Zilch PMS + Stress Formula is designed to work within one cycle,
giving you the freedom you deserve.

Protect your body from stress.
We can't take away what is making you stressed or anxious,
but we can protect your body from the effects of it. That's the power of adaptogens.
Regain control, and start feeling like the old you again.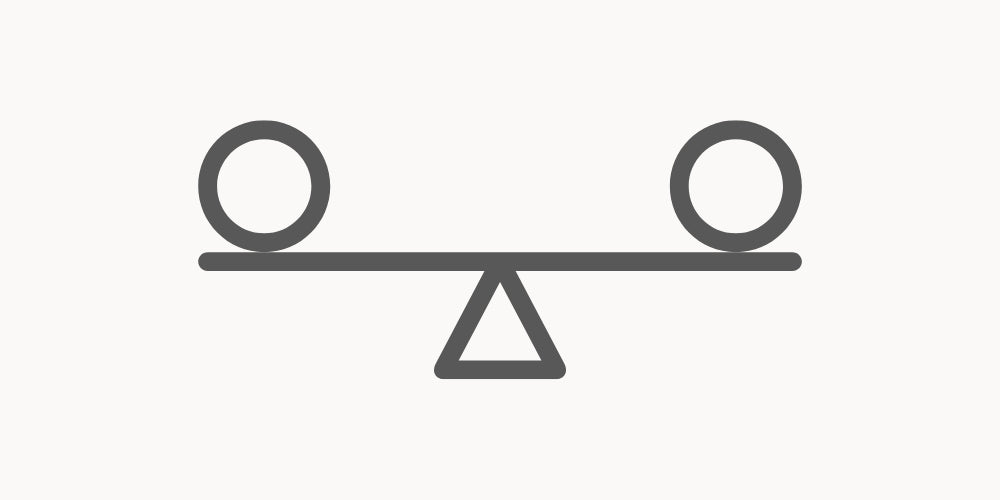 Balances
Adaptogens supports the body's natural processes to find balance and reach optimal wellness.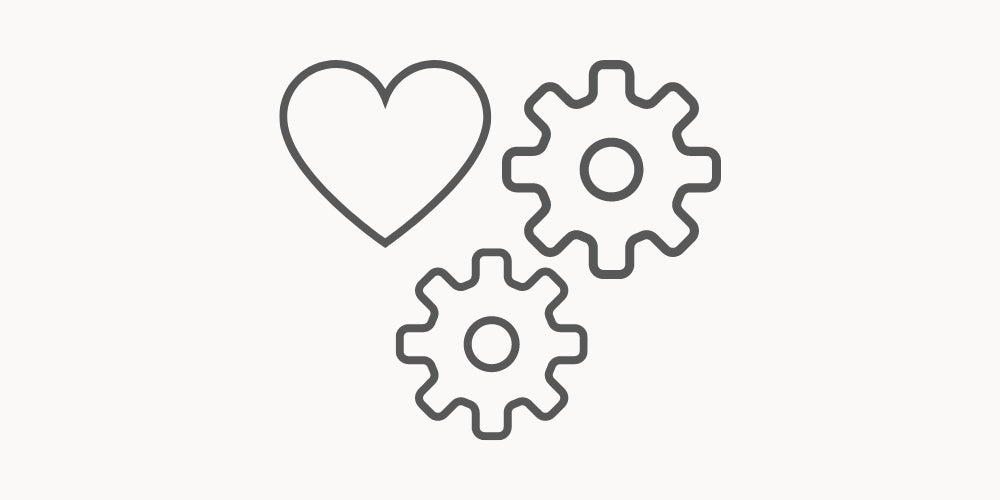 Encourages
Encourages the right environment for the body to heal.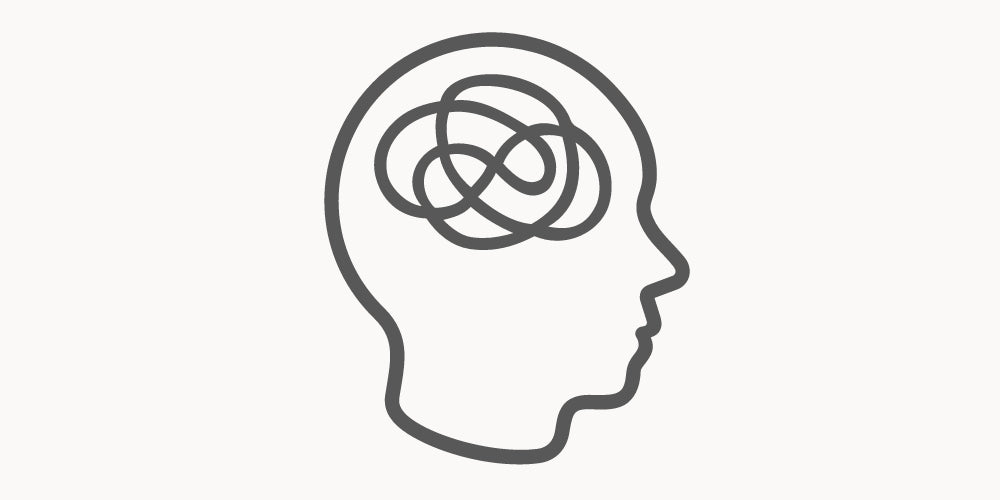 Calms
Calming and adaptogenic properties reduce the effects of stress and anxiety.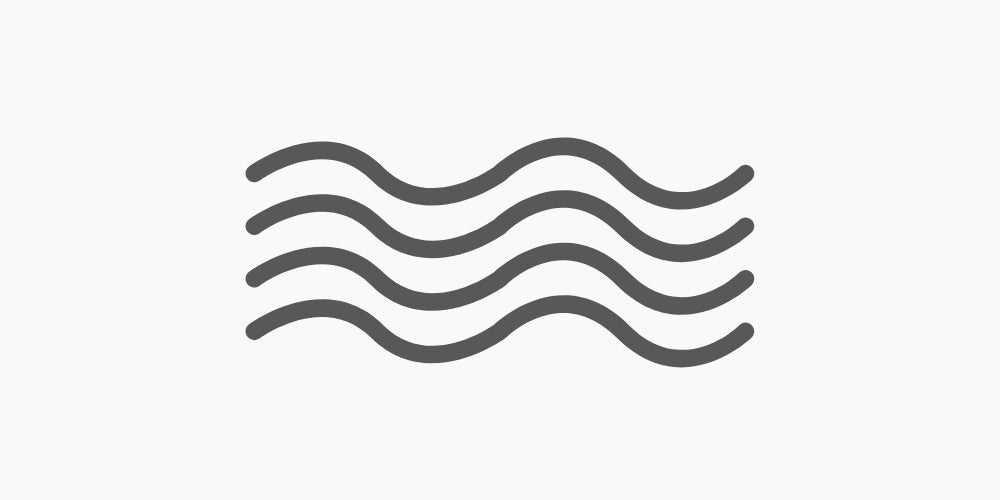 Unblocks stagnation
Free flows blockages and stagnation to reduce pain and stress symptoms.
OUR CORE VALUES
THE ZILCH FORMULAS DIFFERENCE
100% natural, truly.
Zilch Formulas supplements proudly contain only herbal active ingredients, and potato starch is used as a binder–that's all. Thanks to our highly specialised and unique extraction process, our formulas contain no nasties, chemicals, fillers or preservatives.
Nothing to hide.
We pride ourselves on our authenticity and approach everything we do with honesty and transparency. Our products are formulated by a Dr. of Chinese Medicine in a real clinic, our real user reviews are unscripted and unedited, and we are a genuine company looking to make a real difference.
Special extractions.
Our formulas are batch made from scratch with raw herbal ingredients. Our unique and highly specialised extraction process allows us to transform these herbs into potent and pure extracts without the use of any additives apart from potato starch. This whole process can take up to 4 months.
Giving back.
Wellness for all, compassion for all- we believe in creating a world of inclusive wellness that is kind to animals and cruelty-free. Zilch Formulas is committed to supporting animal welfare charities–we contribute an amount from every bottle sold.
A note on our reviews
In compliance with the Therapeutic Goods Administration (TGA) advertising code, we cannot provide remuneration or incentive for review on TGA listed and registered products.
VT

Reviewing

Zilch PMS + Stress Formula

Don't be skeptical - I was and now I'm not!

I bought PMS + Stress formula when it launched because I had such great success with the Acne supplement a few years ago. My main issue was the water weight and fluid I would get the week leading up to my period - seriously, i felt so puffy and my face held so much water weight I couldn't stand to look in the mirror during that week. That and food cravings.. I could eat the house down. I started them taking in just after my last period finished, and my next period was a WORLD OF DIFFERENCE. No puffiness in the face, and food cravings were dimmed by at least 50%. Have bought another bottle to see what happens in the next cycle. SO THRILLED!

Reviewing

Zilch PMS + Stress Formula

UNBELIEVABLE

I used to take the Acne formula a few yrs ago to treat such horrendous breakouts and cystic acne when nothing else worked! and now I take the PMS and debloat together. Again, I spent tens of thousands on naturopaths homeopaths etc and whilst they helped, I would sometimes go backwards or it would stop working or not give me the relief. Then I was told it takes time etc. I then remembered that when I took the Acne formula it helped my moods and also bowel movements (currently experiencing constipation for weeks and several months with minimal relief, excessive pain, gas, cramps, weight gain, fluid etc) so I thought I would give this a go again and discovered that now there is also the PM's and debloat formulas so I tried these together. OH MY GOD. These have changed my life! The depression kicking in after 3yrs of constipation and subsequent side affects as the weight gain mood swings and chronic fatigue were crippling me and no amount of practitioners I saw (constantly for 3 yrs no break was on a form of treatment that wasn't working) it was too much to bare. I decided to try these and FROM DAY ONE I have experienced relief! And it hasn't stopped!! I will continue to use these for a while given the health issues for yrs as I do not expect yrs of body ailments to be cured in 1 month but it has been the most successful route and the cheapest! Please please do not consider it anymore, just try it!! If you're in Vic, also can see the creators in real life for treatment which I…

Tiffany L.

Verified Buyer

Reviewing

Zilch PMS + Stress Formula |

You've just changed my life!!!

I've been taking the supplement for 5 days, got my period today and it's a world of difference already! I'm normally in bed for the day, eyes shut and sleeping it off with a migraine, 10/10 pain and always need to cancel my plans for the day. Symptoms have reduced so much for Day 1. Pain intensity was 7/10 and only lasted for a few hours, big headache but no painkillers. The PMS time is reduced from a week of lower back cramps and bloating to only 2-3 days and is fairly mild compared to what it normally is. Cravings reduced - it's normally salt and vinegar chip central here!! Slightly more pimples this time, but feels like maybe that's part of the purge?

So so grateful for you. Can't wait to see how I'll feel at the end of treatment and beyond thrilled to get this out to help people! Thank you again. SUCH a difference!! Thank you! Shouting my praises from the rooftops!

Vivienne C.

Verified Buyer

Reviewing

Zilch PMS + Stress Formula |

My first "normal" period.

I can't even remember what it feels like to have a "normal" period because it's been that long. I normally get bad period pain, anxiety, and bloating and I brood around at home for a week before I cry at the drop of a hat. This period was the first period where I felt "free" from all the symptoms, and I could finally be myself and get on with my week. I am really keen to see how this continues to help me, because if it can, I'll be a customer for life. Thank you.

Margaret M.

Verified Buyer

Reviewing

Zilch PMS + Stress Formula |

Much less anxious

The PMS + Stress Formula has been a great addition to my "daily calm routine." As someone that suffers from anxiety, I have over the years worked out what I need to do to keep on top of it and I am so glad to be able to add something else to my routine that I know is helpful to me. I wake up at 6am, do deep breathing for 8 minutes, go for a quick 10 minute walk, and start my day. Before bed, I do more deep breathing and some meditation, and now I will be adding in this formula. I found since taking it, my mind is a little quiter, and it takes me less time to fall asleep. I also find I am staying asleep better, and not waking up in the middle of the night restless.
Reviews Loaded
Reviews Added